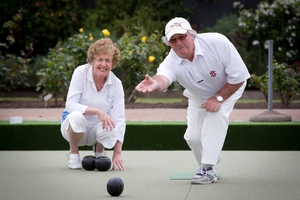 Peter Blick is chuffed at graduating from "water boy" status to full membership of a previously women-only bowling club.
The semi-retired Aucklander was the first man to leap at a rule change by the former Mission Bay Women's Bowling Club last month to let in men, but has since been followed by three others.
Now that the 55-year-old organisation has also decided to change its name, to Kohimarama Bowling Club, Mr Blick expects many more mere males to join without fear of being ribbed by friends.
He insists he would have stayed, no matter which way a vote had gone at the weekend to change the name, but acknowledges others may have found it harder to cross the gender divide if it was still known as a women's club.
He followed his wife Helen after she took up bowls four years ago, but was restricted initially to a supporting role. "I was a water boy, shall we say, following her around while she played in various competitions.
"Then some people asked why I didn't take up bowls myself, which I thought was quite a good idea - but the problem was that I couldn't join the Mission Bay Women's Bowling Club."
So Mr Blick settled for joining the nearby St Heliers Bowling Club while his wife rose to vice-presidency of the women-only enclave down the road. "But when they passed the resolution at Mission Bay, it was logical that I join Helen at her club, which is now our club."
Even so, he acknowledges equality can go only so far. "I can't beat her. Looking at the quality of her bowls is what has got me to say, 'let's play together'."
Bowls NZ chief executive Kerry Clark said there remained very few single-sex clubs compared with more than 1300 in 1996, when men's and women's national bowling associations merged.