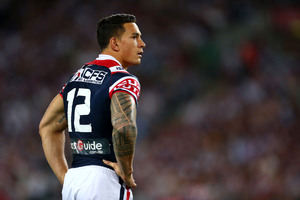 Oh, dear god. If I never hear another word about Sonny Bill Williams I'll be a happy woman. What is it about this man that generates so much talk and so many column inches?
He must surely be one of the most polarising athletes this country has produced as his fans (of which there are legions) are as passionate about him as his detractors (who are many).
It doesn't help that he comes across as capricious - or flaky, to be less circumspect. He walks out on the Bulldogs (he and his fans say he had valid reasons for doing so); he leaves rugby for the Roosters because he said he had to honour a handshake deal (snorts of derision from his detractors, who claim not only could he not spell honour but that he doesn't know its meaning).
He says he's unavailable for the Kiwis' World Cup squad and yet, less than 24 hours after the squad is named, he's, like, "yeah, nah, yeah" and says he'll play if the selectors want him.
Of course the selectors want him. He knew that.
So poor Tohu Harris gets bumped because Sonny Bill changes his mind and the NZRL management team bow to his caprices. As has everyone else in Sonny Bill's career.
To add insult to injury, Tohu Harris was asked to come along and just hang with the great man. He could play in some warm-up games then leave the field clear for SBW to take centre stage. That's like being the fluffer, getting the mare ready before the stallion comes in to finish off the job.
Quite rightly, because Tohu clearly has a bit of dignity and bit of class, the patronising offer was refused. He's going to go off and have a minor op that he needs and stick with his club, the Storm. He knows where he's valued. Sonny Bill, meantime, feels dreadful, apparently, but he had to follow his heart and now he's going to win the Rugby League World Cup single-handedly, with his undies over the top of his shorts.
His fans say that in this era of professional sport it's only right that you pick the best team available and Sonny Bill is better than Tohu; his detractors say he's a screwball who needs to get a better manager to sort out his calendar. He's a professional and he should act like one.
I think SBW is a truly gifted athlete but perhaps if it all came less easily to him and he had to work harder to win his representative jerseys he might be a better person for it. Supremely talented sportsmen are spoiled and pandered to, from the time they're in their teens.
I hope for SBW's sake that somebody turns around and tells him "no" before he leaves the rarefied atmosphere of professional sport and enters the real world. Otherwise I fear that the first time he's told he can't have what he wants, the combination of shock and outrage will kill him.