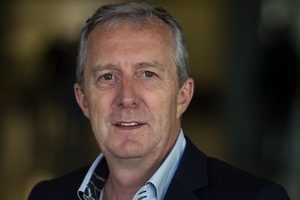 It's called Mad Monday for a reason and it translated to Tense Tuesday for Jim Doyle.
As each club is knocked out of NRL finals, they traditionally get together on Monday when things can, well, get mad. Last year the Bulldogs took the gloss off their appearance in the grand final when a female reporter was abused and, previously, indiscretions have ranged from the serious (Robert Lui assaulted his pregnant girlfriend) to the unsavoury (Joel Monaghan's lewd act with a teammate's dog).
This year went without incident, as far as we know, which was noteworthy in itself. It was a relief for Doyle, who this year started as the NRL's chief operating officer.
It is a wide brief for the respected former NZRL chief executive, and he oversees a raft of areas ranging from legal to human resources, IT to the salary cap, and player welfare and education to governance and communications. But by far the most high profile aspect of the role is his work as head of the newly-created integrity unit.
It's fair to say it has kept him busy this year. It started with Asada's investigation into drugs use in the NRL and continued with incidents involving Ben Barba, James Tamou, Ben Teo'o, Mal Meninga, Josh Dugan, Russell Packer, Blake Ferguson, Sandor Earl ...
"There are times when you are in the office and someone comes in and says they need to close the door and tell you something they have just been made aware of," Doyle says. "You think, 'not another one. What's happened now?' Especially when you feel like you are making some progress.
"There have been times when I have felt like policeman or schoolmaster. I'm not involved in all the detail because we have some people who do that in the integrity unit. I'm just trying to make sure there's some consistency so we don't just make one decision one day and a different one the next."
The very name integrity unit tends to suggest the game has an issue with integrity but Doyle disagrees. One of his main goals is to put systems in place that make proactive change to protect the $1 billion industry the NRL has become, but that is difficult when the brand is often tarnished.
It has meant the role has not panned out the way he had expected.
"In the past, once you set a strategy, 80 per cent of your time is spent on proactive stuff and 20 per cent on reactive," he says. "The biggest challenge here is that it's the opposite way around - 80 per cent of your day is reactive. Hopefully we can shift that so it becomes more 50/50.
"You want to keep the organisation moving forward. You have big ideas and you plan your week and month and you think you are going to make some really good progress but then all of a sudden it's turned upside down. A lot of the time it's risk management."
It's why there have been significant sanctions imposed on some players.
Tamou was stood down for a State of Origin match for being caught four times over the legal limit, which cost him A$50,000 ($57,100), Packer cost the Warriors A$15,000 for urinating on Suncorp Stadium, Ferguson was stood down for four weeks while facing indecent assault allegations and Earl was issued with an infraction notice and provisionally suspended for the use and trafficking of peptides.
The NRL have taken an enough-is-enough stance in an effort to clean the game up and restore some of the respect lost with each incident.
Doyle's is an all-encompassing role, and he's usually found at the office from 6am until late at night, which is why he sees himself in the position for only two or three years (his wife says two, NRL chief executive Dave Smith says three).
He doesn't need the money - he made millions helping grow Navman from a $3 million company to a $500 million one - and has some plans for the future.
"I would like to slow down at some point and enjoy life," he says.
"I'm quite sure I will come back to New Zealand and go back to being a director of a few tech companies. Before I came here, I worked with Sport New Zealand and I hope to go back to that. I'm also looking forward to some more time to myself."
A year of shame
James Tamou
The Cowboys prop was banned for the second Origin game (costing him A$30,000) and fined A$20,000 after driving without a licence and four times over the legal limit.
Ben Barba
The Bulldogs fullback was alleged to have assaulted his ex-partner after pictures were published of a cut to her face. The integrity unit found the Bulldogs had acted appropriately.
Ben Te'o
The Rabbitohs forward was accused of fracturing the eye socket of a woman at the apartment of Broncos player Corey Norman. No charges were laid with police reportedly finding insufficient evidence.
Mal Meninga
The Queensland coach was asked to leave a Brisbane bar when out with Maroons players after he went behind the bar and asked for a beer. The integrity unit found Meninga had no case to answer.
Josh Dugan
Dugan was sacked by Canberra after he and teammate Blake Ferguson skipped a recovery session to go drinking. He later launched an abusive rant on Twitter which cost him a move to Brisbane, but he was picked up by the Dragons.
Blake Ferguson
Ferguson was fined A$10,000 and suspended by the Raiders for the same incident (see above) and eventually sacked by the club after a raft of off-field issues. He is also facing charges of indecently assaulting a woman on the eve of a NSW camp.
Russell Packer
The former Warriors' prop confirmed he is the biggest wee man in sport after urinating on Suncorp Stadium. The Warriors were fined A$15,000.
Sandor Earl
The Canberra winger was issued with an infraction notice and provisionally suspended over the use and trafficking of peptides. He faces a two-year ban for use, and four years to life for trafficking under the Wada code.
- APNZ