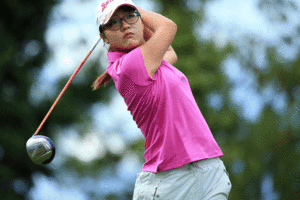 Kiwi golfer Lydia Ko could turn professional as early as next month, according to the teenager's mother.
After forging one of the most successful amateur careers in the history of the game, Ko has long dealt with speculation about when she will assume professional status.
And the 16-year-old's mother, Tina Hyon, revealed that will come sooner rather than later, with Ko set to play as a professional at the LPGA Tour's season-ending event in Florida.
"If she plays any pro events now, she will play as a pro,'' Hyson told the Golf Channel.
Ko had initially planned to sit out the rest of the season following her second-place finish at the Evian Championship last month, after which she hinted her decision to turn professional would be imminent.
While the LPGA requires members to be at least 18 years old, Hyon said the family had filed a petition to the association to seek a waiver of that rule.
Ko has already foregone winnings of more than $1 million in her amateur career which has included back-to-back wins at the Canadian Open, the first of which made her the youngest winner of an LPGA event.
- APNZ