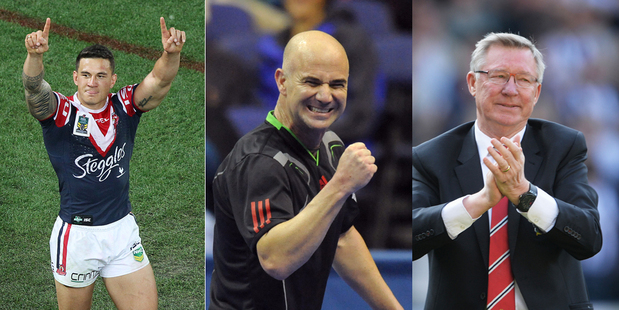 Wishing the kiwis all the best in their title defence, having my first break since 2008. Looking forward to spending time with fam n friends

— Sonny Bill Williams (@SonnyBWilliams) October 7, 2013
Yesterday afternoon, Sonny Bill Williams tweeted this message to his 299,297 Twitter followers.
But less than 12 hours later, he changed his mind. The Sydney Roosters superstar went on to produce one of the quickest and loudest U-turns in New Zealand sport history and has divided the nation with his change of heart.
Now, no longer keen for a break, SBW wants to be part of the Rugby League World Cup. And the Kiwis want him too. But his inclusion would come at the expense of a player yesterday named in the Kiwis squad. What a mess.
Catch the latest developments here.
In honour of this incredible back-track, we list six of the most memorable U-turns from the world of sport.
Sir Alex Ferguson
"The decision has been taken. I'm going to leave the club. I'm disappointed with what has happened because I was hoping something would be sorted out. It hasn't happened as I thought it would and that's all there is to it."
Those were Ferguson's words in the summer of 2001, which meant United would require a new manager from 2002 onwards.
However, his reported fiery relationship with the board was patched up the next winter and he signed a new deal until 2005. As a result, Sven-Goran Eriksson's proposed move to Old Trafford was cancelled.
Mike Tyson
Possibly the quickest U-turn before Sonny Bill, Mike Tyson changed his mind in the space of 24 hours. The heavyweight had withdrawn from his fight against Clifford Etienne in February 2003 after coming down with the 'flu, but just 24 hours later had decided he was fit enough to fight. "He hasn't left the house. He's not moving. I know that he is sick," his manager Shelly Finkel had said, only to reveal the following day that Tyson was no longer on death's door: "Mike rang me and said 'I want to do it'," he said. Despite concerns over his fitness, Tyson, complete with a new facial tattoo, needed just 49 seconds to knock out Etienne in Memphis.
Andre Agassi
Tennis fans were very nearly deprived of one of the greatest players of all time. After losing to world No. 106 Patrik Kuhnen in Washington in July 1987, a 17-year-old Andre Agassi lost the final set 6-0 and in a fit of rage handed out his rackets to a group of homeless men, vowing to never pick one up again. "I can't take this s*** anymore! I'm f****** done! I quit," he raged, before handing out hundreds of pounds worth of equipment to the bemused men. "Here, man, you want these? Do you? Because I don't have any use for them anymore," Agassi recalled in his autobiography Open.
Fortunately for tennis fans, Agassi was convinced to go back on his word, and within a year he was No. 3 in the world. He went on to win eight grand slam titles (including a career Grand Slam) and an Olympic gold medal.
John Obi Mikel
In what was one of the most controversial transfers in Premier League history, Mikel agreed to sign for Manchester United in 2005 from Norwegian side Lyn Oslo. Shortly after he gave a press conference in which he spoke of his delight at signing for the Red Devils.
However, just days later he was quoted as saying that he had been pressured into joining United and that he actually wanted to play for Chelsea. FIFA intervened and the saga eventually ended with the Blues paying United £12m and Lyn £4m to sign the Nigerian midfielder.
James Tamou
Queensland Cowboys prop James Tamou caused ripples across the Tasman last year after declaring his 'dream' to play for the Kiwis, before turning his back on the country of his birth to represent the Kangaroos.
"I'll be honest, it's in the back of my mind (selection for the April 20 Test in Auckland)," he said after the Cowboys' 22-6 win over Canberra. "I've thought about it and I would be upset if I wasn't picked.
"I won't hold my breath. There are some quality New Zealand forwards out there, so I will see what happens. But it would be a dream come true."
But then NSW coach Ricky Stuart got in his ear and made it clear there was an opening for a front-row spot. The rest is history.

Wayne Rooney
In October 2010, star striker Wayne Rooney stunned Sir Alex Ferguson after announcing his desire to leave Manchester United. "We don't understand it, but Wayne's adamant he wants to leave," Ferguson revealed. Rooney admitted he had concerns over the ambition of the club, and was linked with a January move to Spanish giants Real Madrid and Barcelona. But just two days later, Rooney signed a lucrative new five-year deal with the Premier League champions. "I am sure the fans over the last week have felt let down by what they have read and seen," Rooney said. "The fans have been brilliant with me since I arrived and it's up to me through my performances to win them over again."