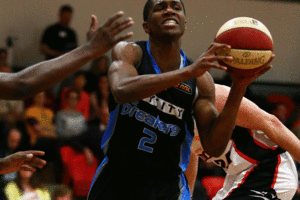 The Breakers won their second straight game to turn around a previously winless preseason, edging Chinese side Dongguan Leopards 82-81 at Hamilton's Claudelands Arena last night.
The game went down to the wire and a Kerron Johnson free throw with 1.5 seconds on the clock proved to be the winner, with a half-court prayer from the Leopards going wide as the buzzer sounded.
The Leopards were much improved after their first up showing in New Plymouth and were once again led by former NBA player Donte Greene, who top-scored with 37 points.
But in the closing two minutes it was the Breakers with cool heads, as first Tom Abercrombie from the free throw line and then Daryl Corletto from long range made vital baskets to regain the lead, setting the stage for Johnson.
Breakers head coach Dean Vickerman was pleased with the hit out and the composure shown by his team down the stretch.
"We have had two of these sorts of games, first in Christchurch against the Tigers and then against Sydney in the Blitz, where we have had chances on the buzzer to win games,'' Vickerman said. "We weren't able to close those out so it is great to have another opportunity and this time to come out on top.
"We had an out of bounds play with time down, and KJ made a great defensive stand on Donte to get the ball back and then made a three throw to win it, so that is great.''
The Leopards showed they are improving with every outing as they prepare for their upcoming season, and they will attempt to earn some consolation in the final game of the series at Auckland's Vector Arena on Thursday night.
- APNZ