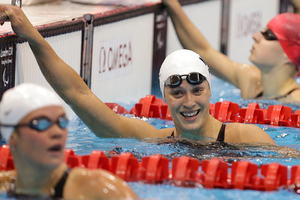 Paralympic swimmer Sophie Pascoe was back in world-record breaking form today during the heats of the second day of the New Zealand Short Course Championships at the Wellington Regional Aquatic Centre.
Pascoe looked controlled during her 100m freestyle heat, smashing the previous world record by more than two seconds to clock 1:00.47, a time that she will no doubt look to challenge again in the final tonight. An hour later she returned to the pool in the 50m butterfly to better the world mark by over two seconds again.
Also in action in the 100m freestyle heats was world championship medallist Lauren Boyle.
Boyle (North Shore) swam a swift 54.95s to post a personal best time and top the qualifiers for tonight's final. World surf lifesaving champion Laura Quilter (North Shore) was a touch behind clocking 55.77s, while two-time Olympian Tash Hind qualified in third equal place with 100m backstroke winner from last night Caroline Baddock (North Shore).
In other men's heats, State AquaBlack Nathan Capp qualified first for the 400m individual medley final in a time of 4:19.43, while 22-year-old Nielsen Varoy (Roskill) had a dominant win in the 50m freestyle.
In other women's heat swims, Caroline Baddock posted the fastest time in the 50m butterfly in her second swim of the morning edging out team-mate Quilter and world championship representative Samantha Lee for the top spot. Seventeen-year-old Natasha Lloyd broke the New Zealand age group record in the 200m breaststroke to be the top seed for the final.
The finals session begins at 6pm tonight and the meet continues until Thursday.
- APNZ