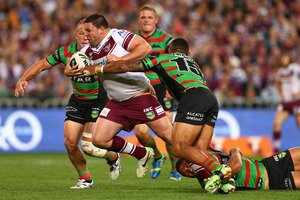 What better example has there been to illustrate that semifinals football has its own level of competition, than Friday night's Souths versus Manly exhibition?
What a game. It had enough skill, speed and drama to enthral anyone who is not a lover of rugby league. The question to answer is whether the week off - and the rest, recovery and preparation window that brings - is a better way to approach a semifinal than an intense, preliminary final battle?
The Rabbitohs relished the week off as they could rest a few players with niggling injuries, particularly Greg Inglis, with the hope the side would be better for it.
However, did the team need the mental rest from the intensity? Last season the Rabbitohs lost this same fixture against the Bulldogs after earning their way there by defeating the Raiders 38-16: this was after the Storm defeated them 24-6 in the qualifying final in week one.
Despite players needing a rest, they had to battle to win their way through to the grand final.
They did not have the fortitude to get that far against a rampant Bulldogs outfit; they weren't experienced enough to do it. This season they won their way through by winning the qualifying final, but I don't think they were mentally prepared for this; the week off allowed them to shut down and it showed when the pressure was ramped up by Manly.
Speaking of the Sea Eagles, there were many critics who could not see them lasting because they were exhausted during the previous week's game against the Sharks. Phil 'Gus' Gould said that Manly couldn't last and many had written them off before Friday's fixture.
Some critics and fans live in the 'now' and do not take history into account when predicting an outcome. They do not understand the mental fortitude of individuals, and in this case the Sea Eagles. This outfit have the strength required to last the distance.
For those who may remember the previous two encounters between these teams this season, the Sea Eagles lost both but kept fighting until the final whistle and it happened again on Friday night.
The teams with the experience of battling in pressure situations will eventually win this competition. Despite the finals series being only four weeks long, it is a marathon in terms of the mind.
Come grand final week it generates more attention and more pressure again and experience is vital. The ability to stay calm this week is another battle to endure before kick-off.