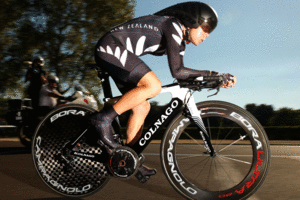 New Zealand cyclist Linda Villumsen earned a record fifth straight medal in the time trial at the world road cycling championships in Florence, Italy, today.
The diminutive 28-year-old rode impressively on the flat and open course to earn silver and become the first woman to win a time trial medal in five consecutive years at the world championships.
She produced an outstanding performance over the 22km test to finish behind in-form Dutch rider Ellen van Dijk, known as "Animal'' by her Specialized Lululemon teammates, who was the overwhelming favourite.
Villumsen held off the charge from Americans Carmen Small and last year's silver medallist Evelyn Stevens as well as Russian Olga Zabelinskaya, who pipped the Kiwi for bronze at the London Olympics.
"Coming back this year was a different approach and, therefore, I didn't know what to expect,'' Villumsen said. "It is a bit of a relief to make it to the podium again. I was a bit disappointed at first to be second I have to be happy.
"Ellen has been the best rider all year and I was closer to her today than I have been in the other races. May be it was a bit of a bitter-sweet feeling.
"I tried to go all-out from the beginning over the first 10kms, which was fast and flat. I was faster than her over the last 5kms, although I had not been able to try that part out in training. I have done all that I could on the day so I have to be happy with that.''
Villumsen was second at the 12.7km mark, 21 seconds down on van Dijk and four seconds up on Small. By the 17.1km checkpoint, the margin was 25.5 seconds to van Dijk and only three- and five-seconds buffer respectively to Small and Stevens.
But the Danish-born Kiwi showed her skills on the twisting final 5kms to finish in 28 minutes 12.28 seconds, which was 24 seconds behind the winner and four seconds clear of Small who edged out her teammate for the final spot on the podium.
Former champions Jennie Longo, Zulfiya Zabirova and Judith Arndt have all won medals over four consecutive time trials at the world championships and have more podiums overall, but Villumsen becomes the first to collect five straight medals.
"I am showing that I am consistent and I have been able to ride well on the flat courses, on the hillier courses, the technical courses,'' she said. "I am hoping that one day it will be perfect for me.''
She will now focus on spearheading the New Zealand team for the weekend road race, hoping to capitalise on some outstanding form this summer. Villumsen withdrew from her professional team contract to take a break from the sport early this year following the disappointment of the London Olympics, where she missed a medal by 1.7sec.
She returned midyear on a short-term contract with the British-based Wiggle Honda team and has been one of the standout women on the professional circuit.
"I am feeling confident I have the strength in my legs. Now I will recover and rest and then go out and look closely at the road course, make our plan and see what we can do to get one rider ahead.
"I am positive at the moment with my form this year. I feel ready for these worlds. I have been doing good training and a lot of races leading up to it.
"The buildup hasn't been ideal given I had to cope with a chipped elbow in the last couple of weeks after a fall but I am confident that we can do something good in the road race.''
- APNZ