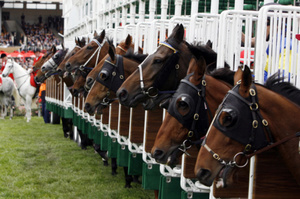 Even the man who thought he could make the NZ Warriors work isn't sure if horse racing can flourish in China.
Kiwi rich lister Sir Owen Glenn sits on the board of the China Horse Club, who are trying to reignite racing in the mammoth country and has been privy to discussions at the highest level.
Glenn was at Saturday's meeting, even sponsoring the second race and is only too aware what is at stake.
But Glenn admits developing that gambling side of the industry, without which the racing will remain rich boys' toys, is hard work.
"I wouldn't say I was confident about the Government making gambling on horse racing legal any time soon," said Glenn.
"But there have been some good discussions and some big names are behind this."
One of the problems facing the push for race gambling is it seems to be the elephant - or should that be dragon - in the room.
Every racing bigwig in Hohhot talked about untapped potential but gambling was only ever mentioned in hushed tones as even the biggest players fear antagonising the Chinese Government.
One powerhouse Australian racing identity, who like everybody else wants to keep his head down on the issue, explained it best.
"This is so big we are willing to invest here even if we think it is a 10-1 chance of coming off," he offered.
"But realistically, maybe that is 100-1. Who knows?"
So for New Zealand racing, China remains a fledgling export market for B-grade horses, who gratifyingly seem to be well cared for.
What happens next is anybody's guess.