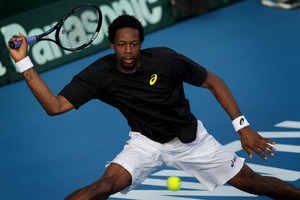 Next year's Heineken Open might attract as many as four top-20 tennis players but it's the world No 37 who might generate the most excitement.
Frenchman Gael Monfils will return to Stanley Street in January and hope he can go a little deeper into the tournament than he did this year. He did well, losing to eventual winner David Ferrer in the semifinals, but fans will hope he can recapture the sort of form he displayed when beating third seed Tommy Haas 3-6 7-5 6-3 in an epic quarter-final.
"That's probably the best match we have ever seen at the Heineken Open,'' tournament director Karl Budge said, and it was a principal reason why Budge put an offer to the former world No 7 the following week at the Australian Open to return again in 2014.
"He was one of our biggest priorities this year. I think every session he played in last year sold out.''
It's an overused expression that Frenchmen are unpredictable but Monfils encapsulated that when he was easily beaten by Ferrer 6-1 6-2 in their semifinal the next day.
Ferrer went on to claim his fourth-straight Heineken Open title, equalling the record set by Australian great Roy Emerson at New Zealand's premier tournament, and the world No 4 will attempt to break that record in January when he plays in Auckland for the 10th time.
Ferrer has had another terrific year, winning two titles and making the last eight in all four major tournaments, including the French Open when he was beaten by Nadal in his first grand slam final.
He will once-again be the top seed at the Heineken Open and will be joined by South African Kevin Anderson, who has risen from 37 to 21 this year and could end 2013 among the world's top 20. Anderson is coached by former New Zealand professional GD Jones and has beaten Ferrer and world No 11 Milos Raonic this year.
Monfils, Ferrer and Anderson were the first players confirmed for next year's tournament and Budge is confident of adding at least two more top-20 players in the coming weeks.
"There are no guarantees Kevin will be among the top four seeds,'' Budge said. "I think that's a glowing endorsement of the depth we are looking to build this year.''
Budge was also hoping to lure a couple of up-and-comers but ruled out world No 8 Jo-Wilfred Tsonga, who had been a target. Novak Djokovic, Nadal and Andy Murray, the world's top three players, and Roger Federer are extremely unlikely and one might play only if they were bundled out early from their first tournament of the year and needed some extra match practice ahead of the Australian Open.
The first names for the ASB Classic will be announced in the next fortnight but Agnieszka Radwanska won't be back to defend her title and will play for Poland in the Hopman Cup in Perth instead.
- APNZ