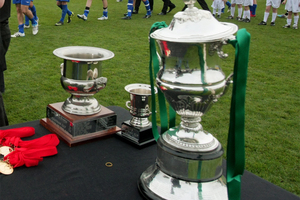 Cashmere Technical became the first team from Canterbury to win the Chatham Cup in over 20 years, after beating Waitakere City 3-1 in the final at ASB Football Park in Christchurch today.
Not since Christchurch United lifted the cup in 1991 has a side from the province tasted cup glory and a capacity crowd of over 2600 turned up in full voice to cheer the home side to victory.
Cashmere Tech got off to a perfect start when Danny Boys scored from the penalty spot after just five minutes, but were level again ten minutes later when new All White Jake Butler thumped an unstoppable volley into the top corner, following a rebound from his own freekick.
Stu Kelly restored the lead for Cashmere midway through the first half, applying a cool finish after pouncing on a loose ball, before Dan Ede put the result out of doubt with a lobbed finish four minutes into injury time.
Waitakare had their chances to equalise, with Rory Turner rattling the woodwork and blazing a shot just wide in the second half after some neat build up play.
But the Cashmere defence isn't easily penetrated. Butler's effort was the first goal Cashmere had conceded in their entire cup run and their ability to stifle Turner and danger man Roy Krishna proved the difference.
It rounds out a season of unprecedented success for Cashmere in which they won the Mainland League, South Island Championship and Hurley Challenge Shield.
Canterbury veteran Andy Pitman, who ends his career with a Chatham Cup winners medal around his neck and the Jack Batty trophy for his man of the match performance, was understandably emotional as the champagne flowed.
"They don't come better than this to be honest," he said after the match.
"What a huge crowd. We've got the win, the girls won before us, my partner's pregnant. The world couldn't be any better at the moment."
Pitman credited a higher level of intensity at the start for setting up the win.
"We probably didn't play as well as we could but it's about winning.
"Our first half performance meant they really just didn't know what to do with us because we were on to them from the very off. I think intensity of the occasion was a bit of a shock for a few of their boys and after that it was ours to lose."
In the women's final, the Coastal Spirit beat Glenfield Rovers 1-nil courtesy of an own goal three minutes into stoppage time.