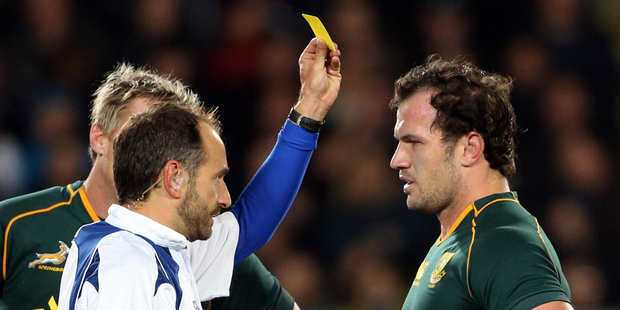 Wynne Gray of the NZ Herald, Patrick McKendry of APNZ and Gregor Paul from the Herald on Sunday answer three probing questions from last night's test between the All Blacks and South Africa.
1: How much effect did the red card have on the outcome?
WG - Massive. Du Plessis is as crucial to the Springboks game as Sean Fitzpatrick was in his time. The setpiece and breakdown consequences were significant.
GP - A red card is always going to have an effect but as the Boks themselves said, they lost to the better team. It maybe woud have been closer if it had been 15 versus 15, but the All Blacks still would have won. The Boks are not the side they think they are.
PM - A massive one. Adding to the significance of it all, Bismarck du Plessis was having an absolute stormer. There seemed to be two of him - he was all over the park but especially good in the tight stuff, winning a couple of crucial turnovers with his strength and timing.
Scored the Boks' first try.
2: Was the red card justified?
WG - It was if du Plessis was guilty of two yellow card offences. His first tackle looked legitimate, his second careless because he led with his forearm. Officials need to be much more certain in their judgement.
GP - Yes. The first offence was not a yellow - although what Bismarck du Plessis did with his head looked bad. But the second offence was a straight red. Seriously bad. The Boks need to cut that out -they are better than that.
PM - No, because his tackle on Dan Carter was legal. The spotlight for the decison to sin bin him must fall on referee Romain Poite, who appeared to dismiss the advice of his TMO George Ayoub. However, once back on the field, de Plessis should have reigned himself in a little. The elbow to the windpipe of Liam Messam wasn't a good look.
3: Was Sam Cane as good as Steve Hansen said he was?
WG - He was part of a strong All Black eight and Hansen is going to praise a young man he believes in, who is on his way up in test rugby and has to deputise for the great man.
GP - He was excellent. Brave and tough - in all the right places. That was a serious investigation of his ability and he came through with an eight out of 10.
PM - A cautious yes. He wasn't overawed by the occasion or the Boks but he didn't come up with any really big plays which made you sit up and take notice. His try owed much to his determination - he flung himself at the line with no thought to his wellbeing, a good thing at this level. He will definitely be better for this test.