Team NZ boss Grant Dalton is on the verge of realising his burning ambition - so for now he's on his very best behaviour, reports Dana Johannsen from San Francisco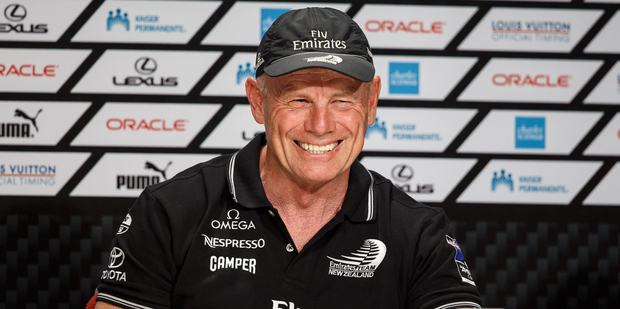 Over the years, he's developed a reputation for being a bit of sailing renegade. Niggly, abrasive and never one to shy away from a fight, Grant Dalton has led Team New Zealand with a terrier-like ferociousness for just on a decade.
The organisers of this year's America's Cup have become especially familiar with Dalton's grizzly old sea salt routine; over the past three years he's been a relentless aggressor in the Cup politics that have bubbled away behind the scenes.
"There are a whole chain of things that haven't been produced as promised, I can't even keep up with (the organisers') bloody back-tracking," Dalton told the Herald a year ago.
But as his team's showdown with Oracle Team USA in the 34th America's Cup match in San Francisco drew nearer, Dalton retreated further and further from the spotlight. Team New Zealand's combative frontman was suddenly gun-shy, exercising caution in his few public utterances.
He said he did not know if Team NZ were fast enough, he did not know if all their hard work on the Hauraki Gulf over the summer would pay off and he did not know if Oracle had something special up their sleeve we had not seen.
All he knew was it mattered, a lot. Gone was the posturing and bravado, he wasn't afraid to admit that made him really quite anxious.
Several times over the past year Dalton has delivered the passionate promise: "Team New Zealand categorically exists to bring to the Cup back to New Zealand."
" media-id="12388560">
The same could be said of the Team NZ boss himself.
Since taking over a syndicate in a state of disarray following their embarrassing 2003 campaign, Dalton's entire reason for being has been to return to the Cup to New Zealand.
The fact Team NZ still has its doors open, let alone be three wins away from their greatest America's Cup triumph is, in no small part, down to Dalton, who somehow managed to cobble together $120 million through public funds, corporate sponsorship and private backers.
"Grant is the only person in New Zealand that could have put together this campaign," Sir Michael Fay, the man behind New Zealand's first Cup challenge in 1987, says emphatically.
"There's not another man or woman in the country who could have done it, I truly believe that. He's done an absolutely marvellous job."
Even his rival, Sir Russell Coutts, had to admire Dalton's fundraising abilities, although typical of the exchanges between the two in the lead up to the Cup, the Oracle Team USA chief executive's compliment came with a sting in the tail.
"I have to say Dalts has done a brilliant job going out there and finding all that money. You know, I have won a few things (Coutts has famously never lost a Cup regatta), Dalts has got a lot of second places," Sir Russell said in early May at a charity event in Auckland, which pitched the two fierce yachting adversaries against one another.
Given Dalton comes across as such an abrasive character, his ability to charm both corporate and private sponsors to give him money has always been a bit confusing.
He is, in many ways, the anti-salesman.
There's no slick suit or rehearsed sales pitches: he just bowls into their European corporate headquarters in his shorts, Emirates-emblazoned T-shirt and cap and talks passionately about his team and the culture they engender.
Sir Michael said the novelty of having a rough-around-around the edges former ocean racer turn up at the office asking for money clearly works.
"He goes in there, gives them a hard time about their fancy Prada shoes and they just love it," said Sir Michael.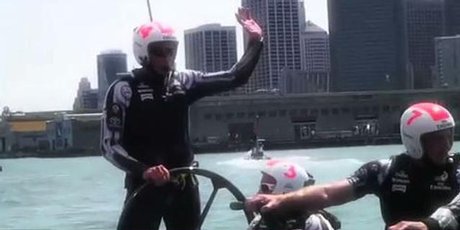 It took Dalton just one day to convince the boss of family-owned Spanish footwear company Lorenzo Fluxa to part with $20 million for Team New Zealand's Volvo Ocean Race campaign.
"Even though we are from the other side of the world, we feel very close to New Zealand culture," said Fluxa in 2010 following the sponsorship announcement. "When I met Grant Dalton for the first time, the emotional link was very, very quick. I think we share very close values and the history and image of New Zealand sailing has a lot of authenticity, so it is a privilege to be associated with that."
Fluxa's sentiments are echoed by almost every company or individual who has invested money in Team NZ, including Matteo de Nora, the Swiss-Italian multimillionaire who has plunged a significant amount of his own personal wealth into the Kiwi syndicate.
But as impressive job as Dalton has done scraping together the $120 million to compete in this year's Cup, Team NZ's budget is still much less than their rival's.
Where the Kiwi syndicate has really had the edge over its opponents is in time - the one resource money can't buy. Justin Chisholm, editor of Sail Racing magazine, says this edition of the Cup has had the shortest lead-in time, but steepest research and development curve of any regatta and it is only through the sheer willpower of Dalton that Team NZ have been able to stay ahead of that curve.
"He has managed an impressively tight ship - they've hit every deadline along the way whether it be delivery, boat launches, sail days, whereas other teams have been in complete disarray," says Chisholm, who has been based in San Francisco for the past six months.
"People have pointed out that Team NZ haven't crashed or had any major breakages in their lead-up, and that's true, but there's a reason for that.
"Ultimately a team reflects its leadership."
Just over a week ago, in their final training run in San Francisco ahead of the Cup match, Dean Barker and his crew notched up their 100th sail-day in the AC72 catamarans. It is that time on the water together that sets the Team NZ crew apart from Oracle's "dream team" line-up of sailing superstars.
Just as is the case in Formula 1 motorsport, in the high-powered AC72 catamarans races can be won and lost in the cornering, so with painstaking attention to detail, the well-drilled Kiwi team have practised their manoeuvres over and over to ensure every tack, gybe and mark-rounding is executed with precision around the racecourse.
As Luna Rossa grinder Wade Norman says, shaking his head incredulously, "The Kiwis, they just don't make mistakes."
Out on the water with the crew for every one of those 100 days was Dalton. Again, this has earned him much derision from Coutts.
"Here's Dalts, a 54-year-old - and no one else can be found in New Zealand who is better than a 54-year-old?" Coutts scoffed at the same charity dinner, referring to Dalton's position in the crew.
For the record, Dalton is 56. But that's neither here nor there to him - he sees being on the boat as absolutely essential to managing the campaign.
On board, Barker is the man charge - Dalton says he is "just a grinder", downplaying the extreme physicality of sailing the high-powered and under-manned AC72 catamarans.
But he says the insights he has gained on board have been critical to making the right decisions in the boardroom.
"For me, running the whole team and the whole development of the campaign and trying to meet with people and have intelligent conversations about speed enhancements and directions of where we head in terms of design, I fundamentally just don't see how you can do that without being on the boat," he says.
"You could end up with disconnects. If there's one person ultimately in charge of driving the direction on things, then you have to know what happens on the boat to do that."
Although Dalton would be embarrassed by the comparison, it is a philosophy reminiscent of Sir Peter Blake - his old ocean racing rival and the mastermind behind Team NZ's historic 1995 Cup win.
But Sir Peter didn't have to contend with the level of political subterfuge that Dalton has encountered in this Cup. The scandal and controversy that has enshrouded the event has added to Dalton's already initimidating workload he has taken on.
"I'm glad it's not my first Cup - this shit would have spun me out completely," Dalton admitted just days out from the start of the Louis Vuitton challenger series, at the height of the controversy surrounding the late changes to the design rules. "What they're trying to do is fundamentally wrong, and I can't stand for that."
That was the last time Dalton really bared his teeth this regatta. Since the showdown with Oracle began, Dalton has hidden behind the handles of his grinding pedestal, preferring to let his team do the talking on the water.