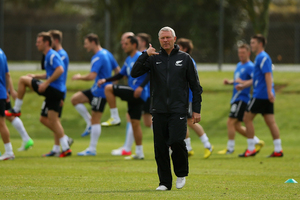 The All Whites have a rare chance to win a trophy after beating Saudi Arabia 1-0 in Riyadh this morning, but it's hard to ignore the real prize on offer towards the end of the year.
The All Whites won the Oceania Nations Cup in 2002, when Ryan Nelsen scored the only goal in a 1-0 win over Australia at North Harbour Stadium. Since then, the trophy cabinet has been a little bare.
Embarrassingly they finished third at the 2004 and 2012 Oceania Nations Cups and in 2008 the tournament took a break.
On Tuesday morning (NZT) they will play the United Arab Emirates in the final of the OSN Cup. It's not exactly prestigious but would prove a fillip given the World Cup playoff coming in November.
The win over Saudi Arabia might have been ugly - the entire game held little appeal - but was deserved. The All Whites created more chances, looked more organised and were rarely threatened by a poor Saudi outfit.
They also coped reasonably well with the oppressive heat (it was apparently 43 degrees pitchside at one point even though the game kicked off at 9.15pm local time) and limited preparation time.
"In general I thought it was a good performance away from home and in some tough conditions,'' All Whites captain Winston Reid told Radio Sport.
Crucially, a couple of players who were effectively on trial had decent games. Jake Butler was steady in central midfield and Chris James stood out in his first match for the All Whites since the 2009 Confederations Cup.
His distribution was good and delivery from set-pieces impressive and he might have even played himself into consideration for the squad for November's home-and-away playoff against the fourth-best team from North and Central America for a place at next year's World Cup.
Whether he can force his way into the starting side remains to be seen but Herbert is still undecided about who to play in the holding midfield role alongside Michael McGlinchey.
He can revert back to Ivan Vicelich or opt for one of Tim Payne, Dan Keat, Andrew Durante (assuming he qualifies) or James.
Herbert likes keeping his options open, reminiscent of not only the last World Cup campaign but also his tenure as coach. He's used 64 players in 56 games but some have seen little action.
Aaron Scott played at right-back against Iraq at the Confederations Cup and appeared a certainty for the World Cup squad only to miss out in the final selection and hasn't played since.
Just three months before the 2010 World Cup, Chad Coombes and Jason Hayne were plucked from obscurity and taken on the tour to face Mexico (only Coombes played) and never seen again.
A year later he tried out Michael Fitzgerald in the hope of finding a right-back (he played in two matches) and has picked Craig Henderson on a handful of occasions only for Henderson to miss out because of injury. Remember Daniel Ellensohn, Jeff Campbell, James Pritchett, Campbell Banks ... ?
James appears to have more long-term potential in the current squad. He's playing professionally in Finland and seems to understand his game more after a promising junior career highlighted by his time with English Premier League outfit Fulham.
He's worth another look on Tuesday morning against the UAE, who beat Trinidad & Tobago 7-6 on penalties after the match finished 3-3 at fulltime because the bigger picture needs to be at play.
- APNZ