After setting up a roadblock and a few jandal spikes at the rowing world championships jetty, Andrew Alderson procured an interview with coaching sage Dick Tonks.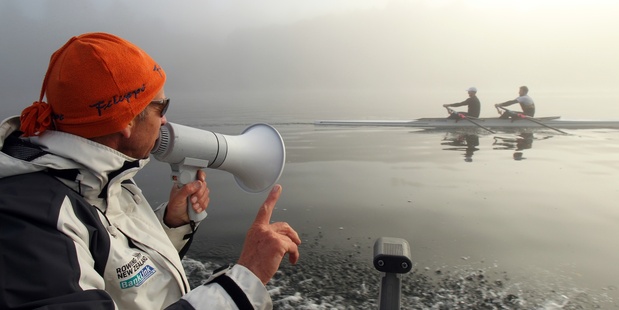 HoS: Jeepers, you're looking fit Dick, especially with the pension less than three years away. What's your secret?
DT: Well it's the old story - use or lose it. You can get ill at any time. I run, canoe and cycle. I'm hoping to row again, too. Being overweight and unfit has never appealed.
HoS: Have you enjoyed focusing solely on women's crews rather than being overall head coach?
DT: Yes. They've all strived to be the best they can and no one's been a problem. That's all you can ask for. The eight and quad missed their finals by less than a second. They just have to squeeze up a bit.
HoS: Is it a sound plan for Rowing NZ to back a big boat programme or should they stick with what they do well in smaller boats?
DT: You have got to pick people in boats that can win. The easiest way is to start with smaller boats; it's harder to get the mix right in bigger boats. An eight only takes one person to be off colour and it goes to pot. As a small country we have hardly any rowers between ages 21-28. There is a huge school population then the numbers drop off.
We've never had a women's eight qualify in a [world championships] final. I thought to get within a second was pretty good. The onus now goes on the girls to do more work because they'll miss out on PEGs (performance enhancement grants from High Performance Sport New Zealand]. It won't be easy to move on from here.
HoS: What about your future?
DT: It's enjoyable out in the fresh air, helping young athletes make boats go fast. That makes for a good job.
HoS: On to the heavy stuff. What are your thoughts on nature versus nurture and talent versus hard work?
DT: When a baby's born, it can be almost anything it wants, if it puts its mind to it. The younger you start the better you'll be. When a kid trains at something they get a passion and they get good. These days there are so many things you can do. You can spend your youth inside playing on a computer. If you do that, it will makes things harder sports-wise. I don't think there's any such thing as talent [at the professional end of sport]. Those who are good at something from a young age often don't go on. Getting to the top takes practise, practise, practise. If you think you're good and things are easy, you're never going to get there.
HoS: Any advice for the New Zealand cricket team?
DT: I can't give advice to other sports. I can only say for rowing if a crew is not going well and is missing its timing down to the last split second, you can't just wait for some magical solution. You've got to practise breaking the stroke down until the timing comes right. If you think your 'gift' will enable it to come right; it won't. That's crap.
I don't believe a lot of the modern theories. I stick to the basics. In rowing, quite simply, miles make champions; quality training will improve you. If you think there's a short cut (shakes head) ... A dart player doesn't go cycling to make himself better - he throws a dart.
HoS: Those jokers are quite skilful to watch, don't you think?
DT: Oh yeah, I enjoy it, but he doesn't get on his bike between matches and start pedalling.
HoS: You're a voracious reader, especially regarding coaching. What's been on the bedside table?
DT: The Gold Mine Effect. This Danish guy [Rasmus Ankersen] visited Russian tennis players, Ethiopian runners, Brazilian footballers and the like, working out what made them tick.
Often such books effectively say the same thing. You've got to spend 10,000 hours practising to be any good. I read a great quote about practice recently from an 80-year-old violinist who said: 'if I don't practise for one day I notice, if I don't practise for two days my wife notices and if I don't practise for three days the whole world notices.'
HoS: Where's your 1972 Olympic silver medal [from Munich]? The sock drawer or the mantelpiece?
DT: It's in a drawer.
HoS: Do you ever go and look at it?
DT: Ah ... no. I used to bring it out every four years if schools were doing a project for the Olympics. Kids used to love looking at it because there were two naked people on the back (chuckles). It used to cause quite an uproar.
HoS: Did you get offered a knighthood after the London Games?
DT: No. Why should I?
HoS: Well, you've done a fair bit for the community.
DT: Not really.
HoS: Indirectly you have. You've led a programme which has collected 45 Olympic or world championship medals stretching back to 2004. You could argue Olympic gold medallists, in particular, can help inspire the next generation.
DT: You can look at it that way. I'm just doing a job like anybody else but it might get in the paper a bit more. You don't do it for those reasons. I don't know if I could go strutting around calling myself 'Sir'.
HoS: 'Arise, Sir Richard' has a bit of a ring to it. It might help you turn left rather than right on to planes.
DT: No, no no. That's the thing. Using something like that to get an advantage over people the same as me wouldn't be right... but it might be good if it made my family proud or enhanced the family tree.
Gracious Korean volunteer: I'm sorry, but we have to put away these chairs.
HoS: That's fine, we were just finishing.
DT: Yeah, no problem. Shame you didn't come about 10 minutes earlier (chuckles).