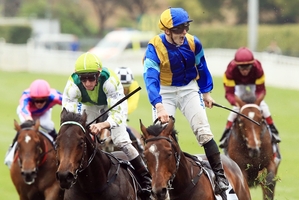 Racing's record book might not stand very high, but Atlantic Jewel has a massive task to jump it when she faces stand-out New Zealander It's A Dundeel in today's A$350,000 New Zealand Bloodstock Memsie Stakes in Melbourne.
The truly stunning Atlantic Jewel - unbeaten in seven trips to the races - has to successfully come back from a year and a half on the sideline after a breakdown.
Said swiftly, that does not appear an ominous task, but in recent decades six similar Australian Horse Of The Year recipients have attempted it and failed.
Most have failed spectacularly.
The group one Memsie, which to most signifies the start of overall the world's greatest racing carnival - Melbourne in the spring - is seen by some as a one-horse race, Atlantic Jewel, and by others a two-horse affair, Atlantic Jewel and It's A Dundeel.
It's $2 Atlantic Jewel, $5.50 It's A Dundeel. If you think both will flop just let bookies know what price you'd like about the rest.
If Atlantic Jewel had recently made a successful comeback she would probably be about the $1.30 price against a New Zealander who is resuming from a natural break in racing and aiming at staying events like the Cox Plate and possibly the Melbourne Cup.
Moderating that slightly is that It's A Dundeel has been flying in training, goes well when fresh from a spell and will be taken to the races by a surprisingly confident Murray Baker.
Australian trainer Mark Kavanagh accepts he faces a daunting task in producing a track icon under such circumstances. He's understandably feeling the pressure.
"Other trainers would understand, but most people would have no idea how difficult it is to get horses like this back," Kavanagh told the Herald Sun this week.
"If she wins she's a freak, if she loses I didn't train it [her] properly.
"Horses invariably get ring rusty and this isn't something we're setting up for a maiden in the bush.
"We have to have her forward enough to be competitive because she's the people's horse and we have to leave enough improvement to not lose sight of the bigger picture [October's Cox Plate].
"It's not easy. The temptation would be to have her totally cranked up but you don't want to overcook your entree so it burns by the time you get to the main course."
Atlantic Jewel is owned by racing's massive conglomerate Coolmore Stud, which Kavanagh says has encouraged him to bring her back to the track.
"But I wouldn't have brought her back just to have a throw at the stumps. I'm under the impression she's back [to her best] and going okay."
The record of superstars who have attempted what Atlantic Jewel will face this afternoon:
Weekend Hustler: Out for one year, 2 starts on return for a record of - 0.
Scenic Blast: 11 months, 5 starts, 2 placings.
Northerly: 17 months, 3 starts - 0.
Might And Power: One year 10 months, 2 starts - 0.
Veandercross: 2 years 4 months, 4 starts - 0.
Better Loosen Up: 10 months, 12 starts, 4 placings.
Murray Baker is upbeat about It's A Dundeel, but said he would have loved his stable star to have drawn anything but the No 1 barrier.
"It doesn't suit, we'd have liked around 5 or 6, and it means James [McDonald] will have to ride for luck.
"He's been working very well and if he gets that luck I give him a chance of upsetting."
Baker harks back to the Hobartville Stakes at Warwick Farm in the autumn when It's A Dundeel made his similar sprinting resuming run starting a campaign that took him to Derby success.
"It was a bog track, which didn't suit and he stormed home from well back to finish fourth."
That day It's A Dundeel did not have the benefit of blinkers, which will be in place tomorrow.
"Look who won that - Rebel Dane, who is a great horse and Pierro finished second. That's great form."
You get the impression Kavanagh will rate this as a victory alongside his Melbourne Cup win with Shocking if successful.
He would just love to have that unbeaten record intact tonight, but said his prime concern was that the mare pulled up healthy and well.
"If she wins she's a freak," he told the Herald Sun.
If It's A Dundeel beats her, Baker could probably steal Kavanagh's "she's a freak" quote.
At 6.50pm (NZT) this is a race you just don't want to miss.