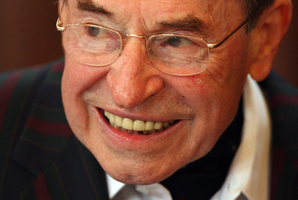 Strangely enough, Cliff Morgan was never entirely satisfied with the 48 words of television commentary that earned him his place in sport's eternal memory, even though his rolling, length-of-the-field description of Gareth Edwards' joyous score for the Barbarians against the unsmiling All Blacks in 1973 was the quintessence of Welsh rugby romance.
The account would not have been bettered had Richard Burton himself grabbed the microphone and sung the try's praises in the poetic cadences of Dylan Thomas.
The last three words "What a score!" were the ones that bugged him, on the grounds that they were both trite and unnecessary. The cricket commentator Richie Benaud, one of Morgan's few peers in the broadcasting box, might well have agreed with him, for it was the Australian who built a career on the principle that silences spoke volumes.
But we can surely agree, now that Morgan has passed away after a long illness, how cruel it is that he, of all people, should have been afflicted by a cancer of the vocal cords.
In those few seconds early in the most celebrated of all rugby matches, illuminated by Phil Bennett and John Dawes and the rest, Morgan found himself paying homage on the hoof to a sublime act of sporting adventure and doing it justice
In doing so, he spoke in the way he had played, for both Wales and the Lions: with perfect timing, a sense of wonder and a generous spirit. That generosity was at his core. "I was thrilled to be able to convey something of the atmosphere to a live audience in New Zealand, as well as Great Britain," he said of his commentary.
Quite whether the ruthless ruck-em-raw types down Invercargill way appreciated the gesture remains open to debate, but it is difficult to imagine Morgan being other than sincere.
It is equally difficult to believe that Cliffy, born into a Rhondda Valley mining family in the harsh, politically volatile days of 1930, started out in rugby as a hooker. Never was a man more obviously suited to life at five-eighths, the position in which decisions are made and from which attacks are launched. The late Clem Thomas, a fierce back-row forward who played alongside Morgan on the 1955 Lions tour of South Africa, described him as an irrepressible Welsh wizard, adding that he was quickly appointed as squad choirmaster. He had a decent voice even then, although he would not find his own song to sing for another 18 years.
Yet it would be a mistake to marginalise his achievements as a player in favour of those as a broadcaster. As his countryman and commentator Gareth Charles said on hearing the sad news yesterday, Morgan was the prototype of the player who would tumble off the production line at that Welsh five-eighths factory hidden away somewhere to the west of the Severn. Would David Watkins have been possible without the forerunner from Tonyrefail? Would Bennett, or Barry John, or Jonathan Davies?
Morgan may have played his finest rugby, sticking it to the All Blacks for club and country, well over half a century ago, but his spirit never really died. Not in Wales. Even in the early years of the professional era, the principality could still unleash a No10 like Arwel Thomas a tiny, seven-stone weakling of an outside-half who, because he was touched with rugby genius, could run rings around the muscle-bound behemoths intent on smashing him into next week.
There are those who continue to believe that rugby does not have to become the exclusive preserve of the sporting gigantosaurus. That the little buggers, as Spike Milligan lovingly described his favourite players, can still find a place for themselves through pace, wit, dexterity and a highly developed survival instinct. Morgan, who symbolised both the breed and the exhilarating rugby associated with it, was foremost in keeping the faith.
"Ohhh," he sighed that day at the Arms Park in 1973 as he began to reflect on the wondrous Baa-Baas try he had just witnessed. "That fellow Edwards." There had been a time, in the 1950s, when the best players in the British Isles had spoken similarly of that fellow Morgan. Those players are disappearing, but in Cliff's case, there is at least a few seconds of something special to remember him by.
- Independent