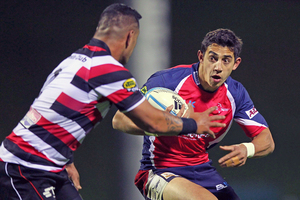 Counties Manukau's foray into the premiership division was going to be tough enough anyway.
The mission got even tougher tonight when they were beaten 40-20 by Tasman from the championship division.
And very well beaten at that.
The visitors were excellent at Ecolight Stadium in Pukekohe against a Steelers outfit whose only excuse was the late withdrawal of their Super 15 first five eighths Baden Kerr because of a leg injury.
They need to be more resilient than that. Tasman were controlled, clever, clinical and expansive when they needed to be.
Having established a tidy advantage going into the final stages, they finished much the stronger creating a fabulous bonus point try at the end.
Well-constructed tries were the highlight of a quality, if restrained, first half.
The best came from the visitors, who pulled a smart switch play after a lineout then spread the ball right to a huge overlap with loose forward Liam Squire finishing it off.
Counties Manukau's best was more of an impromptu effort, also from a lineout, with lovely timing between August and Toni Pulu sending Bundee Aki over the line.
Apart from the kick-off receptions, which were a bit of a lottery, and the standard breakdown penalties, both sides were in fairly authoritative moods in the first spell. But crucially, Tasman developed a clear advantage in the scrums which increased significantly in the second half.
Counties Manukau hooker Hika Elliot, who was floored with a head knock, did not return after halftime in a blow to the home side.
Counties Manukau had early second half opportunities to extend their 17-16 lead after good setpiece work.
It was Tasman who came closest to scoring next, however, after a bullocking run from centre Kieron Fonotia was followed by a timid attempt at the line from James Lowe.
The Steelers survived via video scrutiny but Tasman had their second wind and were looking dangerous.
With Tom Marshall pulling the strings, the Counties Manukau defence began to tire and Tasman edged to a 26-20 lead.
And the flow continued to go Tasman's way as they kept to their attacking structure while the Steelers' defence went astray. It led to Fonotia scoring near the lefthand corner without the Steelers close to getting a hand on him, for a 33-20 lead never threatened.

Tasman 40 (Liam Squire, Shane Christie, Kieron Fonotia, Tom Marshall tries; Marty Banks 4 con, 4 pen)
Counties Manukau 20 (August Pulu, Bundee Aki tries; Ahsee Tuala 2 con, pen, Ki Anufe pen).
Halftime: Counties Manukau 17-16.