Turning professional would place great demands on young woman who clearly still has both feet on the ground, despite incredible success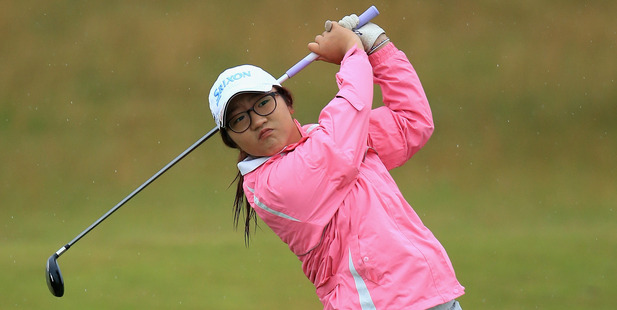 Has this country ever seen the likes of Lydia Ko? At just 16, she won her second professional golf tournament in Canada this week, bringing her notional earnings to nearly $1.24 million, none of which she has received because she remains an amateur.
The fact that she remains an amateur is a remarkable testament to her parents, her mentors, especially coach Guy Wilson who has been with her since she was 6, and no doubt reflects her own balanced attitude to sport and life.
At 16, still attending secondary school in Auckland, she is keeping her options open. If - or more likely, when - she turns professional, her life will be less her own. Professional players have to accept some obligations in return for the opportunity to win those big cheques. Tournament hosts and sponsors make calls on their time.
Lydia Ko probably faces some of those requests already, particularly in this country. But it is important for one so young that she can compete when and where she wants to without the pressure of professional demands.
New Zealand's high performance sport assistance has contributed $230,000 towards her international expenses, an investment that stands a good chance of reward with a gold medal at the 2016 Olympics.
Her amateur status may need to be preserved if she seeks a sports scholarship to an American university, where she could prepare herself for life beyond golf. Plans such as that would seem in character with the way she plays. On the course she has a relaxed swing and a calm, steady, purposeful manner far ahead of her years.
Off the course, her comments to television are equally unruffled, cheerful and sensible. She shares the delight in her success with her feet still firmly on the ground. No wonder her classmates at Pinehurst School were following her progress at Edmonton on a live-stream internet link this week.
She in turn seems happy to be a New Zealander. There seems little danger that she will be returned to her parents' home country, as happened to another fine young player in a Korean immigrant family a few years ago. Ko's success must bring particular pride to Korean New Zealanders and signifies their contribution to this country.
Having made the cut in her past 24 tournaments, 14 of them on the LPGA tour, and finished in the top 10 six times, she is already ranked No 7 in the world. How much better she might be as she gets older and devotes even more of her time to the game, can only be imagined. New Zealand Golf general manager Dave Mangan believes she will be No 1 by the time she is 18.
She is already the world's leading woman amateur for a second year. This season her second Canadian title followed a strong performance in the British Open in conditions that tested her composure. She did not have such a good United States Open and showed that she could handle failure with maturity too.
Between hours of daily practice on tour, she is keeping up her schoolwork, passed her exams last year and is coming home to sit her next papers in October. She is in no hurry to make golf her "job" though a fortune awaits. We can be as proud of her priorities as we are of her play.