Second time around Cambridge galloper shows Sydney punters his best NZ form.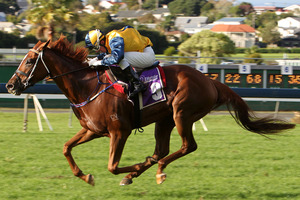 Some things are just meant to be.
When Veyron went to Australia for the first time in autumn and failed to fire after something of an affected foot, it had an air of disaster.
Sometimes you never know when you are winning.
New Zealand horses improve lengths on their second visit to Australia, they know what it's all about and don't stress.
Trainer Linda Laing was expecting bigger things when she took Veyron back to Sydney last week.
It was a different Veyron - he knew where he was and had four good feet.
It may have been just a whisker he beat Sydney mare Streama by, but it was a magnificent performance.
If the Cambridge 8-year-old stunned Aussie punters at $21, Laing shocked them more when she told the press: "I thought he was a certainty."
The downside to the story was that regular rider Rogan Norvall, who does all the work on Veyron and knows him better than anyone, couldn't ride him thanks to the Australian immigration officials.
Since the boat people started upsetting Australians, their Immigration Department has clamped down big time.
It seems as if all applications are initially thrown into the same basket and "no" is pretty much the universal answer.
It meant Norvall, operating on a Zimbabwean passport although he has been in New Zealand for years, was unable to get permission to ride in Sydney until last Thursday - by then too late.
Laing, not wanting to miss out, had engaged Sydney rider Christian Reith for the A$200,000 race.
You don't need too many degrees to work out a group one-winning jockey from New Zealand is not quite the same as a refugee hanging off the mast of an overcrowded boat attempting to enter Australia illegally.
Or, maybe you do.
Norvall arrived in Sydney in time to watch his favourite get up in the last stride in Saturday's feature.
With the even temper that makes him so popular, Norvall said: "I hope he goes on with it now."
As well he might. Norvall has a visa to ride Veyron in the forthcoming group two Chelmsford Stakes (1600m) and the group one George Main over the same distance. Then there is the rich Epsom Hcp, but that will depend on the handicapper.
"Obviously, I'd like to run him in the Epsom, but I'm not going to start him just because of the stakemoney," said Laing. "He has to have a winnable weight."