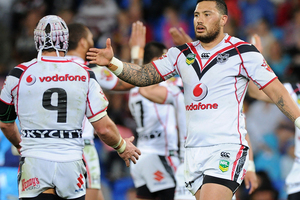 It's often said sport is a game of inches but in the case of the Warriors on Saturday night their season came down to a few millimetres.
Leading 24-16 with four minutes remaining, the Warriors conceded a late converted try to Anthony Don and then watched in horror as a diving Kevin Gordon latched onto a bouncing ball to touch down with seconds remaining. Fortunately for the Warriors, Gordon grounded the ball on the dead ball line rather than in the in-goal area to be denied by the video referee and ensure the Warriors kept their season alive.
"I was a little frightened,'' Warriors coach Matt Elliott admitted after the 24-22 win. "But I guess we probably shouldn't have been in that situation.
"We probably could have handled the last 10 minutes a little better but I'm really proud of how we turned that second half around and fought hard for a large part of it to steal a win.''
The Titans nearly stole it back through Gordon's efforts but the Warriors deserved to collect the two competition points.
It now sees an extremely congested ladder with two points separating the Knights in seventh and Broncos in 13th. The Warriors are 11th with two games remaining and their inferior points differential (-84) means they need to win their last two against the Raiders and Dragons to have any chance of making the top eight.
It represents one of the easier run-ins of teams jostling for the last two playoffs positions but there are a few reasons why they need to be wary, not least of all the fact they have largely struggled this season against sides they should beat.
Although Canberra have a dreadful away record, they have won two of the last three at Mt Smart Stadium and four of the last five between the two sides.
On top of that, the Warriors have found beating the Dragons the most difficult assignment in the NRL, having won just four of the 19 games (21 per cent) between the two sides overall and only one of the last 10.
The win was the most important thing on Saturday night after a three-game losing streak but there were some aspects about the Warriors' performance to be cautiously optimistic. They recovered from a 16-6 deficit, played with a lot more intensity and desperation than the last three weeks and got a lot more mileage out of their forward pack.
Centre Konrad Hurrell was a handful with one terrific try and 10 tackle breaks, fullback Kevin Locke was a lot more involved running for 188m after a worryingly quiet period (he ran for a dismal 37m last weekend) and Shaun Johnson was dangerous and is looking a more assured goalkicker than earlier in the season.
Jerome Ropati also made a valuable contribution, and not just because he scored two tries. The 28-year-old was playing his first game since May and his presence on the wing helped stiffen a right edge which has leaked a lot of points this season.
Instead it was the left edge which looked more vulnerable, although they weren't helped by the fact centre Dane Nielsen lasted only 40 minutes because of his ankle injury.
"The boys found a way to win,'' Elliott said.
They now need to find a way to win their next two.
The Run-in
Knights (25 pts) - Broncos (A), Eels (H)
Cowboys (24) - Sharks (A), Wests Tigers (H)
Titans (24) - Roosters (A), Storm (A)
Panthers (24) - Bulldogs (A), Sea Eagles (A)
Warriors (24) - Raiders (H), Dragons (A)
Raiders (24) - Warriors (A), Sharks (H)
Broncos (23) - Knights (H), Bulldogs (H)
- APNZ