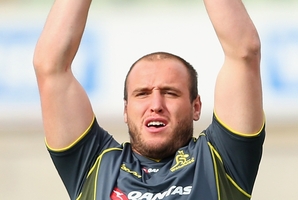 Prop Ben Alexander says the Wallabies are too busy plotting ways to beat the All Blacks to be bothered by their latest slide in the rugby rankings.
On the back of their opening Bledisloe Cup and Rugby Championship series loss to New Zealand last Saturday the Wallabies dropped a spot from world No 3 to No 4 - their worst ranking since early 2008 when they were fifth.
They were leap-frogged by England, with world champions New Zealand and South Africa filling the top two spots.
But Alexander says winning back the Bledisloe Cup from the All Blacks for the first time since 2002 is the first goal and the rankings will take care of themselves if the team perform well.
"We're not focused on the rankings, we're focused on winning the Bledisloe Cup," Alexander said.
"All the rankings and seedings takes care of itself.
"Obviously you want to be No 1 so until you're that you won't be satisfied but we won't be dwelling on that. We will be dwelling on the job that needs to be done."
Meanwhile, former Wallabies fullback Chris Latham believes coach Ewen McKenzie will be well rewarded by keeping the faith in under-fire novice Jesse Mogg.
As exciting as the prospect of Israel Folau being shifted to No 15 is, Latham says big-kicking, long-striding Mogg has the ability to develop into a long-term test fullback, and expects him to show his true colours against the All Blacks in Wellington.
The Brumbies custodian endured a forgettable run-on test debut in last weekend's 47-29 loss in Sydney, highlighted by a poor missed tackle for a second-half try to Conrad Smith.
There's been fervent calls for McKenzie to move Folau from the right wing to the fullback position for more attacking opportunities after barely touching the ball in his Bledisloe debut.
But the Wallabies coach has indicated he'll keep his backline intact, and make just one change to his starting 15, with Brumbies lock Scott Fardy set to replace injured Hugh McMeniman (shoulder) at blindside flanker when he names his team today.
On flying into Wellington McKenzie backed his incumbents - also including rookie five-eighths Matt Toomua - to stand up and deliver at Westpac Stadium.
"They are all up to it," he said. "We picked [Toomua] in the first place.
"I don't really pick people or get rid of people on one game."
That would be applauded by Latham, an attacking marvel of 78 tests over a decade, who took a long time to settle in the No 15 jersey after a rocky five-year apprenticeship.
"I rate Jesse Mogg quite highly," Latham said. "He's got a lot of potential there.
"You need the backing and the confidence of the coach [to perform].
"His first test ... he was just probably guilty of trying too hard."
- AAP