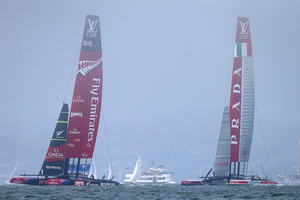 You know you're in an international city when you're as happy as a clam, sitting in San Francisco's cold winds with 9000 other freezing people, listening to a group sing about a drugs raid on their college.
Yes, folks, happiness is being warmed by the highly professional jazz-rock-funk sounds of Walter Becker and Donald Fagen, otherwise known as Steely Dan.
It's part of the concert series held in conjunction with the 34th America's Cup and, although the regatta has copped a fair bit of stick for lack of numbers and boring racing, you have to congratulate Sir Russell Coutts and Larry Ellison for their overall vision.
The America's Cup Pavilion is on one side of Piers 27 and 29 on San Francisco's waterfront, with the harbour and a view of the giant AC72s' start and finish on the other. The Cup concert series has played host to Sting, Steve Miller Band, the Doobies, Cheech & Chong, 311, Weezer, Counting Crows, the Wallflowers and the San Francisco Symphony Orchestra, to name a few.
Last night, Steely Dan rocked up with a 10-piece band and three backing singers and, nearly 40 years after they first impressed the world, delivered a splendid set.
The audience was full of people who should never have heard of Steely Dan but that contrasting mix of honeyed/vibrant music got 'em all up. Good music is good music.
Walking home, I lapsed into the generational lament that so many kids these days don't know what good music is and waste their time with that gangsta rap nonsense. I know, I know ... every generation thinks it has the best music.
The concert series goes on until the end of the Cup and, if the racing gets as good as listening to Steely Dan singing Peg, Coutts and Ellison may yet enjoy the lyrics: "This is your big debut; it's like a dream come true."