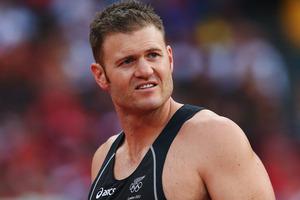 "Brutal" was javelin thrower Stuart Farquhar's assessment after finishing 10th in the javelin at the world championships.
The 31-year-old's best came with his first throw of 79.24m. That effort placed him fifth but he slipped through the field. His second effort was 75.72m and the third was a no-throw.
Farquhar has been to three Olympic Games and four world championships but is yet to pierce the top eight. His best is ninth at last year's Olympics.
He came close. Farquhar was eighth heading into the third round of throws.
"I prepared well but didn't quite have 'the feeling'. I couldn't feel the arm unloading in the throw [enough] so it was tricky to get a distance out. It was frustrating; I'm gutted because it was there.
"I've had a tough year for distances. I stepped up to get in the final but it's mixed emotions not to be close to the medals."
Farquhar was 7.07m off the personal best he set in Hiroshima in April 2012 and 1.83m off his best this year.
The winning throw of 87.17m came from Czech Vitezslav Vesely with Finn Tero Pitkamaki second (87.07m) and Russian Dmitri Tarabin third (86.23m).
While Farquhar gets a performance enhancement grant from High Performance Sport New Zealand for his top 16 finishes over the years, he tends to be 'old school' in his approach. He juggles family life - Farquhar and wife Leone have two children - with sport. Javelin doesn't appear to be the be-all and end-all.
"[The resources] have been good for getting out there to compete when I want to," Farquhar said. "I balance it out as best I can. It's tough going away for long periods so I tend to only go on short trips. I don't have massive preparations like others. My family are my number one priority."
Farquhar intends to compete at next year's Commonwealth Games. He earned a silver medal at Delhi.
Farquhar's event completes New Zealand involvement at the championships.

Val Adams fourth consecutive gold was the highlight. She remains the core reason track and field is forecast to receive $7.6 million of government funding through High Performance Sport New Zealand this Olympic cycle, a $900,000 increase on the previous four years.

Quentin Rew's personal best time of 3h 50m 27s to finish 17th in the 50km walk is also noteworthy. He bettered his London Games effort (where he finished 30th) by four minutes 36 seconds.

Finals for Farquhar and Zane Robertson (5000m) justified their attendance while Nick Willis came within 0.09s of the 1500m final in a blanket finish despite an injury hampered build-up.

Angie Smit, on world championship debut, missed out on the 800m semi-finals by one place while Mary Davies (marathon), Brent Newdick (decathlon) and Jake Robertson (5000m/10,000m) were below par.

Davies and Newdick suffered the effects of minor stomach bugs leading in; Jake Robertson fell over in the hotel bath and injured his leg the day before the 10,000m.