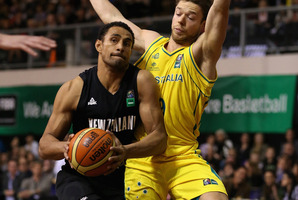 The Tall Blacks proved in game one of the Fiba Oceania Championships they could more than match supposedly superior rivals - for most of the game.
But before tomorrow's second encounter in Canberra coach Nenad Vucinic is confident his charges can rectify their fourth-quarter collapse and earn an unlikely series victory against Australia.
New Zealand headed into Wednesday's opening game on the North Shore with a young squad short of a clutch of key players and they emerged with what might have appeared a reasonable result.
But their 11-point loss was met with soul-searching rather than acceptance, with a lingering feeling among the players they let a golden opportunity slip through their grasp.
The Tall Blacks did, after all, lead by seven at halftime - and it could have been more. They trailed by two heading into the final period, a quarter in which Australia ramped up their defensive pressure at the same time as the hosts' shooting went ice cold.
Tomorrow the task will be to win by 12, a necessity in a two-game set which, in truth, has little riding on the result. But having already secured a spot at next year's World Cup has done nothing to dull the Tall Blacks' determination to snatch that double-digit win, an outcome attainable only by performing for all four quarters.
"We can play but we weren't happy with the fact we didn't play for the whole game," Vucinic said of game one. "I'm not a coach that is happy with playing well in patches."
But basketball is a game of runs, and those natural swings were probably exacerbated in the second half by an underdone Alex Pledger and Tom Abercrombie.
The Breakers pair were short of court time heading into the contest - Pledger last played in April's championship-sealing victory in Perth - and Vucinic thought they grew weary as the game wore on.
The coach was also realistic about the chances of either player finding full fitness before Sunday.
"It's hard to improve in four days, but ... we have to get other guys to step up, maybe use the bench more in the second half, although it's very hard, when things are going bad for us, to use our 16- and 17-year-olds."
But captain Mika Vukona insisted the team were ready to turn the tables on the world's 10th-ranked side. "This team's got a lot of character ... it's how we rebound ... that counts."
- APNZ