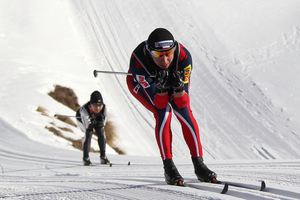 It's among the forms of snow sport least appreciated by New Zealand audiences, but cross country skiing kicks off the Winter Games near Wanaka today.
And as if to demonstrate the quality of fields expected to contest the Games disciplines at various venues between Wanaka and Queenstown, two reigning Olympic champions are in the fields for the 1.6km freestyle races for men and women on the Snow Farm course above Wanaka.
Polish skier Justyna Kowalcyk won gold in the Vancouver Olympics in 2010 in the 30km classic race, backed up by silver and bronze medals in other events. Russian Nikita Kriukov won gold in the classic sprint event in Vancouver and bagged two golds at the Nordic world championships this year in Italy.
New Zealand's training facilities are highly regarded in the cross country discipline. The Winter Games are, in a sense, a happy accident of timing. "Those athletes are primarily here to train and take advantage of the Winter Games to get some competition in," Games organiser Arthur Klap said yesterday.
Olympian biathlete Sarah Murphy, who competed in Vancouver, has the honour of being New Zealand's first athlete to compete in the event.
In a curiosity of the planning, the event takes place before the official opening ceremony later today.
Klap is delighted with the way the Games have come together.
"Super happy, we're in really good shape from a planning point of view," he said. "When you're walking up to the start line you get a bit nervous with last little bits and pieces to do but it's good to get it under way."
Every event has world-class athletes, with Olympic and world championship medallists littered through the fields. "In the freeski and snowboarding we pretty well have everyone in the world here."