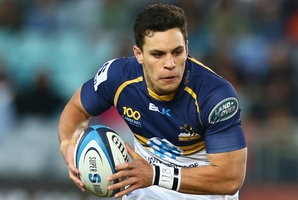 The Will Genia-Quade Cooper axis was fundamental to Ewen McKenzie's rugby strategies and an indispensable part of his initial Wallaby plans. Or so the theory went.
However, the change in coach has brought the smell of revolution to the ranks with Brumbies five-eighths Matt Toomua being shaped to debut against the All Blacks in Sydney on Saturday.
When Reds coach McKenzie won a tight coaching tussle with Jake White to succeed Robbie Deans, the immediate reaction was the Reds would dominate his opening teams.
McKenzie had also been consistently strong in his support of Cooper when the erratic playmaker was overlooked by Deans for the Wallabies.
Now it's McKenzie's time in the selection hot seat and according to reports he, like Deans, has ignored Cooper for the starting five-eighths duties in the Rugby Championship.
The new coach has also shunned James O'Connor who appeared in that role for Deans in all three tests against the Lions.
He will now play on the wing, while Toomua will be promoted to the No 10 jersey.
McKenzie promised surprises for the start of his Wallaby work and while there were ideas he would mix up his side, no one figured he would split up the Genia-Cooper partnership he knew so well.
If that's confirmed today, it will also shock the All Blacks who will have been working on ways to repeat the pressure they applied to Cooper before.
Instead, it seems there will be a rapid ascension for the 23-year-old Toomua who starred in those duties this season with the Brumbies alongside his likely midfield test partner, Christian Leali'ifano.
Promotion for Toomua will create many lines of curiosity.
He showed his maturing game sense during the Brumbies' run to the Super 15 final with his steady kicking game, straight running and sensible offloads mixed with a beefy defence.
Toomua's training ethic is said to be very high and his power in the gym has created all sorts of comment from his teammates.
His game tightened enough this season for Wallaby legend Stephen Larkham to plug him for the Wallaby job against the Lions.
That chance went, but it seems he will match up against Aaron Cruden on Saturday in a repeat of their Super 15 final tussle.
Deans was interested in blooding Toomua last season before he was injured.
The 23-year-old made his Super rugby debut as a teenager but injuries, circumstance and Cooper barred his entry to international rugby until now.
Meanwhile, Brumbies skipper Ben Mowen said there had been a lot of new information to absorb in the Wallaby camp and the detail from McKenzie had been impressive.
"You can tell he's thought about this for a very long time," the loose forward said.
It would be a tough task countering the experience of the All Blacks' loose trio but not intimidating - though Kieran Read was the form No 8 in the world, Richie McCaw needed no explanation and Liam Messam was also in good form.
"If that is the back three, it's a tough ask but we have enough quality in the Wallabies."