Halfback criticised for his lack of fitness and speed while loose forward can't find the sting for battle.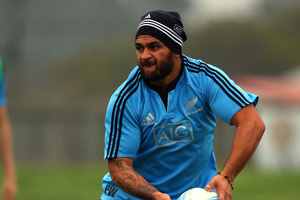 Rejection came for Piri Weepu and Victor Vito yesterday as two of the great All Black enigmas slipped off the national radar.
The halfback carries warrior instincts without the same fight for fitness while the loose forward is a great athlete who can't find the sting for battle.
Both missed the cut for the Rugby Championship squad with an unavailable Rene Ranger and Ben Afeaki, Matt Todd, Francis Saili and Jeremy Thrush who were involved in the June test group.
Saili, Thrush, Blues wing Frank Halai and prop Joe Moody will train as injury cover each week but then return to their provinces for ITM Cup games.
Weepu survived a lack of form in last year's Super 15 to make the All Blacks, and while his fitness had improved in this campaign it did not meet the selectors' template.
For the selectors, Vito fits the "looks like Tarzan plays like Jane" concept.
He was a great athlete, coach Steve Hansen said, and needed to play with "freedom, aggression, intensity and physicality" but it just hadn't come.
"So we'd like him to step out and work on his game in the ITM Cup."
Other All Black loose forwards like Liam Messam and Jerome Kaino had gone through similar remedial charts and the selectors hoped Vito could do the same.
Weepu's sharpened physique has not kept up with the pace the All Blacks wanted to play and he has been replaced by Thomas "TJ" Perenara for the tests with the Wallabies, Springboks and Pumas.
Perenara's grandmother and uncle played softball for New Zealand and his father played league for the Junior Kiwis, and the 21-year-old has risen rapidly to the top in rugby despite breaking his ankle last season.
He captained NZ Secondary Schools in 2010 and debuted for Wellington later that year, played for NZ under 20s in 2011 and got his initial Super 15 chance last season.
The selectors have monitored Weepu's work this season, and his 71st and last test start against France in New Plymouth confirmed their opinion.
"We just felt that how we are trying to play the game, the speed of the game we are trying to play, Pow [Weepu] is just struggling with that," Hansen said.
"His last game really confirmed what our thoughts were about the speed of his game getting from A to B to C, and because of that his skill set is not flourishing."
The selectors were not seeing Weepu run or, at times, pass well. He could dictate matches but only if they were played at his pace.
"He knows he has to go away and get sharper and fitter than he is now, even though he is at the best he has been for quite some time.
"It is something which over a wee period of time we have seen and started to question and when we sat down and talked to him he understood what we were talking about.
"He has been an outstanding contributor to New Zealand rugby and his greatest hour was through that World Cup in 2011 when he really stood up and played particularly well," said Hansen.
Weepu took a lot of pressure from the young five-eighths Colin Slade and then Aaron Cruden after Dan Carter was injured.
"He [Weepu] has been a great servant to the All Blacks and been an important part of our team for a long time both on and off the field. Like all of us there will be a time when it is time to make the change and the three selectors as a group feel this is the time."
It was illogical to retain him as an impact player if he could not play the game the All Blacks wanted.
Perenara was a younger, fitter version with similar skills . It was his time and also a chance for Weepu to see if he could ramp up his fitness and reconfigure his game.