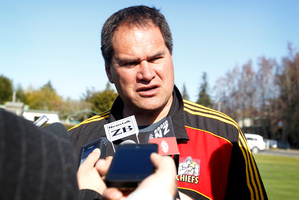 For Dave Rennie, the nerves will start as soon as he arrives at Waikato Stadium tonight.
They have been kept in check by the amount of work the Chiefs coach has had to get through before the final against the Brumbies. But once there is nothing more to do, the butterflies will start flying for the man who has a three-from-three playoff record at the Chiefs.
"We're so busy, there's not a lot of time to sit down and get nervous," he said of the week of preparation to get to this point.
"For me, the worst time is when we arrive at the ground. I don't want to talk to a lot of my players. They're focused on their job, we've done all of our preparation and the last thing they need is a bloody coach whispering extra messages in their ear.
"That's probably the most nervous time because you sit around the changing room a little bit and so on. In-game it's pretty full on. You're passing messages down and trying to analyse what's happening and trying to organise things for halftime talks so you're immersed in it."
Tonight is the culmination of a season's work for the Chiefs, and Rennie, the former schoolteacher and pub owner, is one of the driving forces.
The former Manawatu and New Zealand under-21 coach generally has a calm exterior but inside he will be churning with the desire for another title to go with last year's.
Winning consecutive titles would be something significant and would be another sign that the balance of rugby power in New Zealand is shifting north from the Crusaders in Christchurch to Ruakura, the increasingly comfortable home of the Chiefs on the outskirts of Hamilton.
One of the first messages the squad received in pre-season training was the need to back up last year's final victory over the Sharks.
Wing Lelia Masaga revealed after the semifinal win over the Crusaders that the team's catch-cry was B2B, or Back to Back.
Told that he must be doing something right to be undefeated in Super rugby playoff matches, Rennie replies: "We've only had three. This week is huge obviously. We know we've got a tough opponent. It's exciting, though."
In terms of coaching excellence, Rennie and his team of Wayne Smith, Tom Coventry and Andrew Strawbridge must be up there with the best in the competition.
They have moulded the special spirit within the team and added the week-to-week detail which this year resulted in them losing only four matches.
Standing in their way is a Brumbies team coached by Jake White. Playing away from home appears to hold few fears for them - but the trip to Hamilton from Pretoria where they had to fight extremely hard to beat the Bulls must take its toll, just as the travel did for the Sharks 12 months earlier.
"They have an excellent scrum and a really solid lineout," Rennie said. "They are able to apply quite a lot of pressure. Their scrum was the winning of both of their playoff games [against the Bulls and Cheetahs].
"We expect them to kick a lot and put us under pressure with an aerial game. We've thrown a few randomised things in just in case they try to do something different, but I think they'll probably continue to do what's been successful for them."
Success is something Rennie has become increasingly familiar with, but it won't stop the nerves starting at about 6 o'clock.