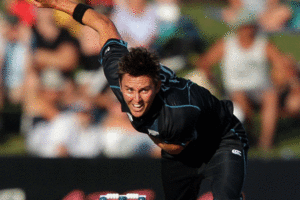 Trent Boult was a toddler when the last cricket World Cup was played in New Zealand and now he has 19 months to prove he should be involved in the next one on these shores at the start of 2015.
The 24-year-old pace bowler is firmly established in New Zealand's test side but is only on the periphery when it comes to the coloured clothing.
He's played eight one-dayers and three Twenty20 internationals but his numbers haven't done a lot to set the pulse racing so he has it all in front of him to claim a place in New Zealand's side for the 50-over global tournament.
Boult was on hand with a collection of other Black Caps at the 2015 World Cup's official launch in Wellington yesterday, where the draw was announced and host cities and venues across New Zealand and Australia were also confirmed.
New Zealand will play in Pool A alongside co-hosts Australia, England, Sri Lanka, Bangladesh and two qualifiers who are yet to be decided.
Pool B is made up of South Africa, India, the West Indies, Ireland, Zimbabwe, Pakistan and a qualifier.
"It's a big opportunity for me over these next 19 months to push my case and prove myself as a match-winner for the New Zealand cricket team,'' Boult said.
"So I'll look forward to doing that so hopefully I'll see my name on the squad sheet come 2015.''
Boult said being invited to the launch made him realise how close the event was.
"It's something I want to play in and I've grown up wanting to do. So I think it's a massive opportunity and it's awesome that it's here on our home stage.''
Boult will be competing against the likes of Mitchell McClenaghan, Tim Southee, Doug Bracewell, Kyle Mills and Ian Butler for a pace bowling spot and needs more time in the limited-overs arena to present coach Mike Hesson with enough reasons to pick him.
New Zealand's next international assignment is a tour to Bangladesh in October.
- APNZ