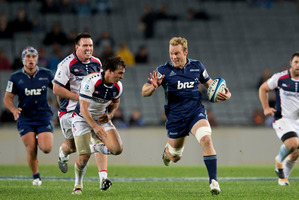 Crowds have tumbled for four out of five Kiwi Super Rugby franchises this season as the post-Rugby World Cup love affair with live sport fades.
The Hurricanes have been hardest hit by fans staying away - home crowds plummeted by a quarter this season. The Highlanders - who have struggled with even poorer results than the Hurricanes this season - played before crowds that were 15 per cent smaller than last year. Neither franchise could be contacted for comment.
Even the top-of-table Chiefs and the perennially successful Crusaders took a hit, each drawing around 8 per cent fewer fans on home turf.
Only the Blues bucked the trend, with just under a fifth more bums on seats, despite a disappointing season in which they lost 10 out of 16 matches.
Blues marketing manager Grant McKenzie put the surge down to early-season optimism from supporters, fuelled by the appointment of Sir John Kirwan as coach and a third-round victory over the Crusaders.
"That goodwill held through most of the season."
Crusaders chief executive Hamish Riach said crowds at AMI Stadium surged last year as it became a rallying point for the quake-stricken city.
"We had all the emotion of the Crusaders returning to town. It was a lightning rod for the community around recovery and hope. A year later, that motivation simply wasn't the same."
Chiefs commercial manger Sean Austin said they were only 2 per cent down on last year when pre-game sales for last night's semifinal were counted.
The New Zealand Rugby Union's general manager of professional rugby, Neil Sorensen, said 2013 Super Rugby crowds were up against 2009, 2010 and 2011 figures but down against the post-Rugby World Cup highs of 2012.
The Warriors rugby league team have also suffered a drop in attendance, paying the price for a string of 11 losses.
Home-turf support for the country's sole NRL side is down more about 14 per cent with a few home games left but with the Warriors on a resurgent run of form that gap could close.
Warriors chief executive Wayne Scurrah put his side's fall in popularity down to a combination of poor performances - they lost 11 games in a row at the end of the 2012 and the start of 2013 seasons - bad weather, venue limitations and the swathe of other entertainment options available to the public.
"We were down 1000 members at the start of the season."