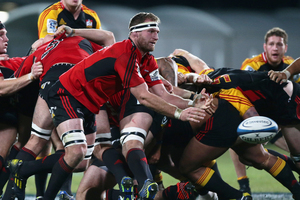 They may be the underdogs but according to our stats guru, history is on the side of the Chiefs ahead of Saturday's clash with the Crusaders.
CHIEFS v CRUSADERS (Hamilton, Referee Steve Walsh)
This is the sixth time these two teams have met in the past two years, and the Chiefs are ahead three wins to two - including their win in last year's Super Rugby semifinal.
It will be the 15th time the Crusaders have played in a Super Rugby semifinal, while for the Chiefs it is just their fourth occasion.
Out of the 57 Super Rugby playoff games played over the years, the away team has only won on nine occasions. The Crusaders have achieved an away win in a semifinal twice out of a total of six away games.

No New Zealand team has ever lost a home playoff game (there have been 15 in total), so history appears to be on the side of the Chiefs.
The Crusaders don't have the greatest of away records in 2013, having won just three of their eight games on the road. The Chiefs don't have an umblemished record at home this season having lost to the Reds in round nine.
The Chiefs have the worst lineout in the competition this season, winning just 79 percent of their throws. The Crusaders are sitting at 83 percent on their throws, and have won 51 opposition lineouts.
The Chiefs have made the most linebreaks of any team this season, averaging 9.3 per game. The Crusaders are averaging 7.2 per game.
The Crusaders average 10.4 offloads per game, while the Chiefs average 12.7. Aaron Cruden is the best of the Chiefs with 26 for the season.
Matt Todd is the second highest tackler in the competition having finished the regular season with 218, making 94 percent of his tackles. Liam Messam has made 182 tackles, and has a 93 percentage success rate.
Gareth Anscombe returns to fullback for the Chiefs - he is currently sitting on 166 points, putting him second behind Beauden Barrett (186 points) who is the top New Zealand points scorer in 2013. Dan Carter is close behind in 3rd place with 156 points.
The Crusaders had a goal kicking success rate of 84 percent during the regular season, with Tom Taylor kicking at 90 percent and Dan Carter at 88 percent. The Chiefs had a 76 percent success rate.
Referee Steve Walsh has refereed nine Super games this season and has awarded a total of eight yellow cards and one red card. He was also the referee when the Chiefs lost to the Reds.