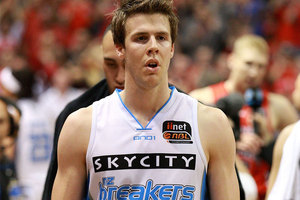 Swingman Tom Abercrombie will bring some much-needed experience to the Tall Blacks for their second outing against China in Luoyang tomorrow night but he is likely to start from the bench.
Having played limited minutes with the Phoenix Suns in the NBA's summer league recently, Abercrombie was due to arrive in China today.
Tall Blacks coach Nenad Vucinic said it would be unfair to put the 26-year-old straight in to the fire from the opening tip.
"We don't really expect, initially, too much of Tom,'' Vucinic said in a conference call today. ``He has been in summer league, he has been in summer workouts plus he really hasn't played a game of basketball since the end of the Breakers season and that was three months ago. So I think he will struggle probably with a game performance and we hope towards the end of the tour he's going to be back to his best.''
Vucinic was positive in his assessment of his side's 79-67 loss to China in game one in Yinchuan last night.
The Tall Blacks fielded a handful of teenagers in the contest against a powerful Chinese outfit that included former NBA player Wang Zhizhi, who top-scored for the home side with 13 points.
Wellington Saints guard Corey Webster dropped 19 points for the Tall Blacks, while BJ Anthony added 11 and a host of others got on the score sheet in some capacity.
Vucinic's side held an unlikely 13-point lead mid-way through the third quarter but that was when their inexperience started to show as a combination of early foul trouble, local referees and a vocal crowd of 6000 saw China rally to take an advantage they would never relinquish.
The youngsters Izayah Mauriohooho Le'afa, Brook Ruscoe, Reuben Te Rangi, Jordan Ngatai and centre Jack Salt all contributed, while Te Rangi (19) and Salt (17) started.
"All five of our rookies proved that they can play at international level,'' Vucinic said. "They have got a long way to go but we can immediately see the mental ability and also the talent that goes with it that is needed for this level.''
China have spent the past two months together as they build up towards the Fiba Asia Championship that will be held in the Philippines next month.
"They are a big team right across the board,'' Vucinic said of the Chinese. ``Right across the board, from shooting guard to centre, they probably have three or four inches on us.''
Vucinic expected a more rigorous examination tomorrow.
"The second game will be much tougher, I believe. The Chinese didn't know three-quarters of our team and now they will make adjustments,'' he said.
"It is up to us to make adjustments as well and to play harder and better.''
Following tomorrow's test, the Tall Blacks have more games in China before they head home to meet Australia on August 14 at the North Shore Events Centre.
- APNZ