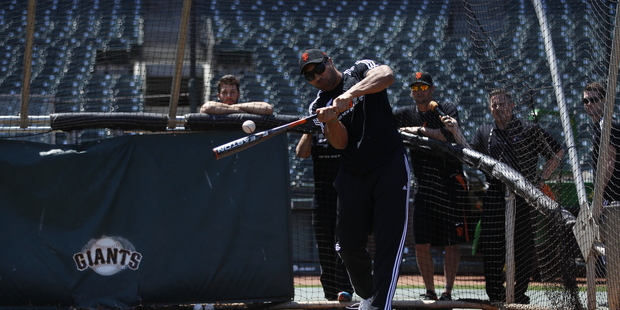 Herald on Sunday sports editor and sailing reporter Paul Lewis with the latest goings-on in San Francisco, the host city of the 34th America's Cup.
From: Paul Lewis
To: Anyone who's interested
Subject: EMAIL FROM SAN FRANCISCO
Play ball! America's favourite pastime
There's a line in the old song (1908) Take Me Out To The Ball Game which goes; "Buy me some peanuts and cracker jacks" which, for some reason, I always thought was just a line.
But no, go to AT&T Stadium and watch the famed San Francisco Giants beat the Arizona Diamondbacks 2-0 and you see peanuts and cracker jacks (a revolting mixture of candied popcorn, molasses and peanuts) aplenty.
There's a lot to marvel at in this striking stadium of 42,000 (sold out when I went), like some panoramic views over the bay; McCovey's Cove (where yachts moor right next to the south side of the park); the best big-screen TV, replays, graphics and database I have ever seen at a sports ground; and the diamond design mirroring the on-field layout.
But perhaps the most fascinating sight is the vendors. Down in the crowd (US$113 gets you three rows from the field), you are visited by the most astonishing array of vendors.
Never mind cracker jacks and peanuts (the latter come in their shells and the traditional husking leaves a carpet of shells everywhere). Vendors lug boxes containing: whole pizzas, popcorn, hot dogs, churros, candy floss, sunflower seeds, hot chocolate, cocoa, pretzels, red ropes, corn dogs and ice creams.
In the concourse is a bewildering array of beer and wine stalls with a huge variety of tap beers and wines. There are dozens of upmarket (for sports grounds) food vendors where you can buy everything from a delicious crab sandwich through a dish of rice, beans, grilled chicken with a pineapple-zucchini salsa, get a cocktail made at the cocktail bar and finish off with a bespoke hot fudge sundae, made to your specifications. Then you take it back to your seat to eat and you too can be 20 stone (127kg).
It's a long way from Eden Park's sad pies, plastic beer bottles and vast queues. There are so many vendors there are few queues, even in the usual rush between innings. It's also a family night out, kids are everywhere, and a sense of tradition is high.
Three rows from the front really shows you the speed of the game. The pitchers get up to the 150-160km/hr range and the strength of the fielders' arms is amazing. The crowd - although quieter than I'd expected (the Giants have won two of the last three World Series but are struggling this year) - compete to field fly foul balls.
Sitting down the front can be hazardous to your health. One foul rocketed past me and cleaned out a fan a few rows along. Dozens and dozens of balls are routinely lost to the crowd, many of whom bring their own gloves expressly for this purpose.
Some of the athletes look a little, well, portly. Giants third baseman Pablo Sandoval really put the 'oval' in Sandoval but showed his ability with a clever gather and throw to run out a batter on first base. Maybe the Giants won because it was 11 degrees; the conference leaders, the Diamondbacks, had just come from 43.
Oh, and the All Blacks were there - Victor Vito drew the winner of a trip to Auckland , Conrad Smith got to hug her and Cory Jane looked on. It was part of an Air NZ marketing ploy to draw San Franciscans onto its new Auckland-SFO route.
She might even go to Eden Park. Hope she doesn't want a cocktail. Or a crab sandwich.
Paul Lewis, Herald on Sunday sports editor