Keen observer says Team NZ and Oracle similar upwind but Oracle may be a little faster in a straight line.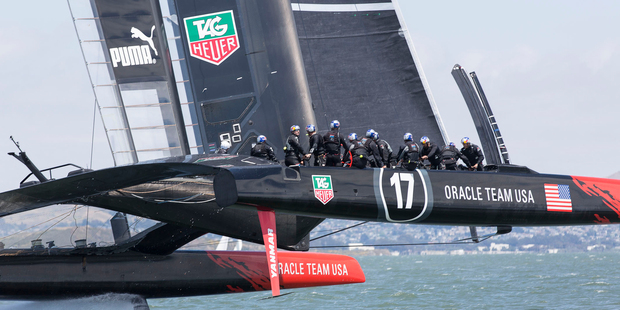 The race is on in the America's Cup. It's just not happening on the water.
The actual racing is a bit sick. Solo boat races are not the stuff of great excitement. It's not overstating it to say that the Louis Vuitton challengers' regatta is holed and taking on a bit of water. It badly needs the wounded Artemis team back but a lot of people think that won't happen and, even if it does, Artemis will be under-developed, undercooked and underwhelming.
If Team NZ give Luna Rossa another spanking on Monday, the public shrug from San Franciscans could register on the Richter scale; the wind generated by people turning away from the "spectacle" could at least equal that gusting on the bay. The media will renew the chorus of boredom and chip again at the flawed vision of Oracle supremo Larry Ellison and Sir Russell Coutts. The only ones left cheering will be the smattering of Kiwi fans here.
But there is a race going on; it's in the boat sheds, though there was one water-borne development yesterday.
Oracle were out practising on San Francisco Bay in their 22m AC72 catamaran in their trial with the new, compliant rudders.
After the sail, it would have been a dash back to their base, way way down the San Francisco boondocks at Pier 80, to collate the reams of data gathered and start feverish efforts to make sure their rudders, foils, daggerboards and the entire sailing package is correctly balanced between the opposing but key elements of stability and speed.
Oracle have got the money, sure, and they have the time, just. But the international jury finding in favour of Team NZ was a blow. Observers say Oracle have been going fast.
But that was with non-compliant rudders. Now they have had to fit compliant ones and start again in the balancing act between technology, speed and stability, making sure the delicate engineering that produces superior boat speed can garner the results they were getting with the old rudders.
It will not be easy. But not only do Oracle have an almost bottomless budget, they have the will of Ellison - not a man who likes to lose. Then there's Coutts. The man who famously has never lost an America's Cup battle will be driving his troops tirelessly to make sure they don't lose the war this time. He is making out publicly that it is not worrying him. Team NZ will be worrying him, all right.
So where do the main contenders lie in terms of their competitiveness against each other? One man who has spent more hours on the water than anyone else observing the catamarans of Oracle, Team NZ and Luna Rossa is sailing videographer and photographer John Navas. By trade the owner of an IT networking and communications company, he has been involved (on and off) with the America's Cup for decades. He is a San Francisco resident and a long-time yacht racer on the bay, knowing the tides and winds as well as anyone.
Navas' star grew in yachting circles when, in the absence of any such information, he indulged his fascination with the AC72s and put his videos on YouTube. Yachties round the globe, hungry for crumbs of knowledge of the giant catamarans, ate up the visuals, forming their own opinions.
Navas has been able to use his frame-by-frame technology to gain a pretty reliable idea of the speed of the two boats and says: "I am getting very similar speeds upwind between Team NZ and Oracle with Team NZ maybe a bit ahead there. Oracle seem a little faster when it comes to straight-line speed."
Again, this is all data gathered with the old rudders.
"You have to have the whole package," says Navas. "You can't just optimise your foiling for upwind or downwind. You have to be able to do it all quickly. So Oracle might be quicker off the wind but you've got to be able to gybe and do well downwind and upwind.
"I think the Kiwis have done that the best so far; they've got the best all-round package and they have worked out not only how to foil well but the best balance between going fast and being stable."
Navas says the Kiwis are doing better gybing, another key element, and have worked out a way to sail faster upwind.
"I can't be sure but it sure looks to my eye that they have found a way to use the foils efficiently upwind to provide lift but not lift them right out of the water. So they minimise drag and it looks to me that they are riding higher in the water when heading upwind."
He says Oracle look the better boat in light airs and smooth seas; Team NZ better in stiffer breezes and choppier water. Team NZ's crew also shapes as the classiest so far.
"Those guys were incredible," said Navas after watching the race against Luna Rossa. "They had incredible teamwork, it was almost machine-like. It was a beautiful mix of choreography, precision and timing."
Cocky Kiwis, however, can tone it down. Oracle have built two boats - Boat 1 is aimed at lighter airs. Boat 2 - the one out yesterday with the new rudders - is for heavier wind.
Navas also dispelled the myth that September, when the cup regatta is held, has generally lighter breezes: "I have been racing here for a long time and let me tell you - it can be light but it can also blow like s***."