Black Ferns' visit gives a boost to school struggling with below par facilities.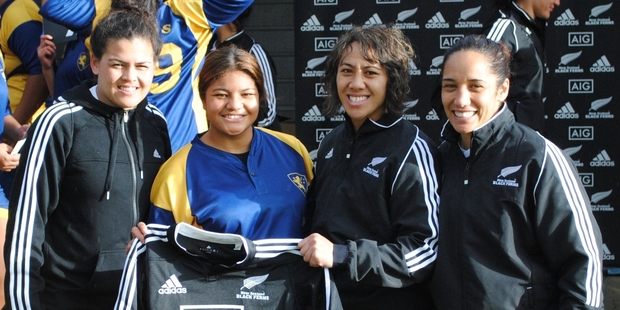 They will have to wait until the first day back next term, but the Auckland Girls Grammar 1st XV will be keen to show off new skills after a training session with the Black Ferns on the eve of their first test rugby win over England at Eden Park.
Making the most of contacts in high places, AGGS, who have Sherwin Stowers as one of their coaches and his wife Karina as the school's teacher in charge of rugby, relished the opportunity afforded them when the national side turned up and were more than happy to pass on their knowledge and enthusiasm.
Rugby is no Jenny-come-lately at the central Auckland school, having been involved with the national game for more than 20 years but, like other sports at the school, they suffer from sub-standard facilities.
Yet the school has watched players like Kayla Cullen and Katrina Grant play their way into netball's Silver Ferns and others into national teams.
"Not having the facilities many other schools enjoy is a massive handicap," said AGGS director of sport, Christo Peters. "Only lacrosse and volleyball have what you would call home advantage. That, and difficulties in arranging transport, is a real challenge.
"We are a decile 5 school but with 81 per cent of our pupils, in 2012, coming from out of zone, we have a real problem in getting our girls to sporting venues across the city, yet we have 42 per cent participating in school sport. But that is a real challenge when you have a roll of around 1350 but only one three-quarter size gymnasium which is falling apart."
So, when the 1st XV players got the chance to rub shoulders with the best, the school jumped at the opportunity.
"We were one of the original girls schools to play rugby and dominated for some time with at least four of our players going on to represent New Zealand," said Peters. "At times we have had up to four teams playing in 15s or 10s and a couple in sevens. When the sevens come around we will have six teams which is down from eight last year.
"Ten a-side has become more popular but we don't have a team in that competition. We would love to see 15s and sevens only and get rid of the 10s for which there is no pathway.
"We have a large number of Polynesian girls at the school and they, like others, see sevens as a realistic pathway, especially it is now in the Olympics."
RESULTS
BADMINTON
NORTH HARBOUR
Senior boys A: Rangitoto 1 6 Orewa 1 2, WBHS 3 5 WBHS 4 3, Birkenhead 1 4 Rosmini 1 4, WBHS 1 8 WBHS 2 0.
Final placings.-
Senior boys A: WBHS 1 1, Rosmini 1 2, WBHS 2 3, Rangitoto 1 4, WBHS 4 5, WBHS 5 6, WBHS 3 7, Orewa 1 8, Birkenhead 1 9.
Senior girls A/B: WGHS 1 1, TGS 1 2, Carmel 2 3, Orewa 1 4, Rangitoto 1 5, WGHS 2 6, Pinehurst 1 7, Kristin 1 8, Birkenhead 1 9, Carmel 1 10.
Senior boys B: TGS 1 1, WBHS 1 2, WBHS 5 3, WBHS 2 4, WBHS 3 5, WBHS 10 6, Orewa 1 7, Rangitoto 2 8 Rosmini 1 9, Rangitoto 1 10.
Senior girls C: WGHS 9 1, Birkenhead 2 2, Birkenhead 1 3, WGHS 8 4, Carmel 1 5, WGHS 2 6, Carmel 9 7, Glenfield 2 8, WGHS 1 9, Carmel 5 10.

HOCKEY
SUPER CITY
Boys A grade.-
AGS 12 Avondale 1, Kings 3 MAGS 0, St Kentigern 3 Macleans 1, WBHS 5 Sacred Heart 1.

St Kentigern 9 8 1 0 31 3 25
WBHS 9 7 1 1 38 9 22
AGS 9 7 0 2 48 19 21
Kings 9 7 0 2 33 8 21
Sacred Heart 9 3 0 6 20 37 9
MAGS 9 2 0 7 9 35 6
Avondale 9 1 0 8 7 43 3
Macleans 9 0 0 9 6 38 0

Girls A grade.-
MAGS 2 Macleans 0, EGGS 2 WGHS 2, Baradene 2 Avondale 1, St Kentigern bye.

St Cuthberts 7 6 1 0 32 2 19
Diocesan 7 6 1 0 23 4 19
EGGS 8 5 2 1 33 4 17
WGHS 8 5 2 1 17 7 17
St Kentigern 8 3 1 4 15 15 10
Baradene 8 2 2 4 6 16 8
MAGS 8 2 0 6 7 20 6
Macleans 8 1 1 6 3 37 4
Avondale 8 0 0 8 2 33 0

LACROSSE
Auckland SS girls.-
Division two, final, St Marys 8 Pinehurst 3. 3rd/4th, AGGS 2 17 EGGS 0/ 11th/12th, Avondale 6 Lynfield 3.

LEAGUE
Final round-robin.-

WARRIORS CUP
KBHS 22 (Fetalaiga Pauga, Kyle Blunkell, Zion Ioka, Sorby Savea tries; Ioka 3 goals) WBHS 12 (Jeremiah Tominiko, Ben McIntyre tries; McIntyre 2 goals). HT: 10-0.
MAGS 24 (John Tapuelelu 3, Nathaniel Roache 2 tries; Sam Lulia 2 goals) St Pauls 10 (Tanieva Leka, Xavier Rice tries; Bradley Abbey goal). HT: 10-4.
Otahuhu 16 (Wes Tauti, K Oneone, V Palaone tries; Don Seuala 2 goals) Sir Edmund Hillary 7 (Paula Sopilano try, goal, drop goal). HT: 16-7.
Kelston's Fetalaiga Pauga who scored the crucial try before the break for a 10-0 halftime lead.

KBHS 5 3 1 1 84 50 7
St Pauls 5 2 2 1 80 58 6
MAGS 5 3 0 2 74 52 6
Otahuhu 5 3 0 2 58 65 6
WBHS 5 2 1 2 78 78 5
Hillary 5 0 0 5 31 102 0

WARRIORS PLATE
Papakura 26 (Kameli Vasu, Frank Toutaiolepo, Lucky Faisauvale, Tipene Tuirirangi 2 tries; Arthur Crichton 3 goals) Southern Cross 22 (Tevita Veituna, Lisiate Vaihu, Viliami Ma'amaloa, Akesi Liaina tries; Liaina 3 goals).
Avondale 12 (Antonio Misaui, Ezekiel Paul, Tapu Pauli tries) Henderson 4 (Arron Swan try). HT: 8-0.
Tangaroa 18 (M. Teisi, J. Siaosi, J. Jackson tries; A. Adams 3 goals) Papatoetoe 6 (I. Aiga try, B. Edmonds goal). HT: 0-6.

Papakura 5 5 0 0 132 54 10
Tangaroa 5 4 0 1 94 50 8
Southern Cross 5 2 1 2 96 82 5
Papatoetoe 5 2 0 3 66 92 4
Avondale 5 1 1 3 64 92 3
Henderson 5 0 0 5 38 126 0

WARRIORS BOWL

Western Springs 16 (Viane Skeen, Jona Waikawa, PJ Heem, Sam Stenson tries) Rutherford 0. HT: 16-0.
MRGS 18 (Franciscus Semi, Nakala Tulimanu, Tualima Tualima tries; Tukino Rake 3 goals) Aorere 8 (Joshua Alofipo, Raiden Fonoti tries). HT: 14-8.
James Cook 28 (Gus Nove, Hehoa Tupouata 2, Harry Robertson, Philip Pati-Tamalii tries; Robertson 4 goals) Manurewa 18 (Nathan Siafa, Jacob Diaz 2, David Tusiane tries; Erin Clark goal). HT: 10-6.

James Cook 5 5 0 0 120 50 10
Manurewa 5 3 0 2 116 80 6
Aorere 5 3 0 2 82 55 6
MRGS 5 2 0 3 74 56 4
West Springs 5 1 0 4 66 96 2
Rutherford 5 1 0 4 41 162 2

NETBALL
NORTH HARBOUR
Round one.
Premier, championship: Whangaparaoa 36 Carmel 1 26, WGHS 43 Carmel 2 18, Rangitoto 46 Long Bay 36. Points: WGHS, Rangitoto, Whangaparaoa 4, Carmel 1, Long Bay, Carmel 2 0.
Premier, flight: Mahurangi 34 WGHS 2 32, Albany SHS 52 Northcote 26. Points: Albany SHS, Mahurangi 4, WGHS 2 1, Kristin 0, Orewa 0, Northcote 0.
Open A championship: Rangitoto 2 39 Wentworth 23, Orewa 2 24 TGS 22, Rangitoto 3 26 Carmel 3 18. Points: Rangitoto 2, Orewa 2, Rangitoto 3 4, TGS1, Wentworth, Carmel 3 0.
Open A flight: WGHS 3 30 Long Bay 2 22, Rangitoto 4 23 Kaipara12. Points: WGHS 3, Rangitoto 4 4, Kristin 2, Pinehurst 0, Long Bay 2, Kaipara 0.

RUGBY
AUCKLAND
1A.-
St Kentigern 13 Sacred Heart 8, Tangaroa 43 Papatoetoe High School 7, De La Salle 35 Onehunga High School 6, MAGS 10 St Peters 9, Kelston BHS 17 AGS 13.

St Kentigern 9 8 1 0 3 223 54 37
MAGS 9 8 1 0 2 247 69 36
Kings 9 7 0 2 6 270 120 34
AGS 9 5 0 4 5 175 122 25
St Peters 9 5 0 4 2 173 157 22
KBHS 8 4 0 4 6 153 116 22
Sacred Heart 9 4 0 5 6 155 125 22
Tangaroa 9 4 0 5 5 162 151 21
De La Salle 9 3 0 6 4 129 122 16
Otahuhu 7 2 0 5 2 103 127 10
Onehunga 8 1 0 7 1 77 270 5
Papatoetoe 9 0 0 9 0 48 482 0

1B Championship.-
Aorere 17 Avondale 16, Macleans 26 St Pauls 12, MRGS 5 Edgewater 5, Dilworth 24 Southern Cross 8. Points: Dilworth, Aorere 23, Macleans 15, Edgewater 9, MRGS, Southern Cross 6, Avondale, St Pauls 4.
1B Plate.-
Sir Edmund Hillary 19 One Tree Hill 15, Pakuranga 17 Tamaki 5, Mangere 28 Marcellin 14, Botany Downs v Liston, under appeal. Points: Mangere, Liston 19, One Tree Hill 15, Pakuranga 14, Hillary 10, Botany Downs 6, Tamaki, Marcellin 1.

North Harbour
1A.-
WBHS 28 (Mitchell Atkins 2, Peter Hurst tries; Harry Calverley 3 pen, 2 con) Rosmini 12 (penalty try, Teague McElroy try; Ben Hyatt-Brown con). HT: 13-5.
Massey 30 Orewa 10, TGS 64 Birkenhead 12.
Points: WBHS 47, Massey 41, Rosmini 36, TGS 29, Orewa 14, Birkenhead 11.

SOCCER
Premier.-
MAGS 4 Sacred Heart 2, AGS 0 St Kentigern 2, KBHS 3 WBHS 5, Rangitoto 1 St Peters 4.

MAGS 10 8 1 1 35 11 25
AGS 10 7 1 2 26 13 22
St Kentigern 10 6 3 1 30 11 21
WBHS 10 5 0 5 32 33 15
Sacred Heart 10 3 1 6 18 22 10
St Peters 10 3 1 6 13 31 10
KBHS 10 2 1 7 16 29 7
Rangitoto 10 2 0 8 14 34 6

Senior A1.-
Kings 1TGS 0, Glendowie 3 Rosmini 0, Kristin v Papatoetoe postponed, Macleans 7 Liston 1.
Glendowie 10 8 1 1 32 14 25
Macleans 10 7 1 2 38 10 22
Kings 10 6 1 3 28 15 19
Rosmini 10 4 2 4 18 17 14
Kristin 9 3 3 3 14 19 12
Liston 10 3 2 5 18 32 11
TGS 10 2 1 7 13 28 7
Papatoetoe 9 0 1 8 11 37 1

Senior A2.-
Northcote v Onehunga postponed, Avondale 1 Botany Downs 0, One Tree Hill 0 MRGS 0, Long Bay 5 Pakuranga 1.

Avondale 10 7 1 2 24 13 22
Onehunga 9 6 3 0 23 8 21
Long Bay 10 6 3 1 28 16 21
MRGS 10 2 5 3 15 16 11
Pakuranga 10 2 3 5 14 23 9
Northcote 9 2 2 5 12 20 8
Botany Downs 10 1 4 5 11 16 7
One Tree Hill 10 1 3 6 9 24 6

Senior A3.-
Rutherford 10 Waitakere 0, Glenfield 1 Whangaparaoa 9, Albany Senior High 4 Howick 0, Lynfield 0 Western Springs 2.

Rutherford 9 8 0 1 51 11 24
Western Springs 10 7 2 1 28 13 23
Albany SHS 10 7 1 2 41 17 22
Lynfield 10 5 1 4 21 23 16
Howick 10 3 2 4 32 25 11
Waitakere 9 2 3 4 26 35 9
Whangaparaoa 10 2 1 7 22 33 7
Glenfield College 10 0 0 10 6 69 0

Senior A4 top 5, round one, championship.-
Parnell College 1Green Bay HS 3, KingsWay v Dilworth postponed, Massey High bye.
Senior A4 bottom 5 championship.
Marcellin 2 Selwyn 2, Sancta Maria v Pinehurst postponed, Auckland International School bye.

Senior A4, round one, final points.-
Parnell 9 9 0 0 41 6 27
Green Bay 9 8 0 1 29 13 24
Massey HS 9 6 1 2 35 16 19
KingsWay 9 5 1 3 46 17 16
Dilworth 9 5 1 3 28 20 16
Selwyn 9 4 1 4 26 22 13
Pinehurst 9 2 1 6 16 43 7
Sancta Maria 9 2 0 7 19 30 6
Akld Intl College 9 1 1 7 9 50 4
Marcellin 9 0 0 9 15 47 0

Auckland Girls
Greater Auckland premier one (under-19), Diocesan 0 Avondale 0, Whangaparaoa 1 Marist 0, MAGS 5 TGS 0, Rangitoto 4 St Kentigern 3, WGHS 1 Massey 1, EGGS 2 Botany Downs 1.

MAGS 11 10 0 1 63 1 30
EGGS 11 10 0 1 42 3 30
Rangitoto 11 9 1 1 55 12 28
WGHS 11 5 2 4 16 28 17
St Kentigern 11 4 4 3 24 18 16
Massey 11 5 1 5 18 32 16
Diocesan 11 4 3 4 13 10 15
TGS 11 3 2 6 12 19 11
Avondale 11 2 3 6 11 43 9
Botany Downs 11 2 2 7 20 31 8
Whangaparaoa 11 2 1 8 7 30 7
Marist 11 0 1 10 6 60 1

Greater Auckland premier two, Green Bay 0 Baradene 0, Lynfield 0 Western Springs 2, Onehunga 12 St Dominics 1, St Cuthberts 0 Rutherford 4, Glendowie 1 Long Bay 1.

St Marys 10 8 1 1 20 7 25
Onehunga 11 7 2 2 39 16 23
Green Bay 11 6 3 2 19 12 21
Baradene 11 5 5 1 26 9 20
Long Bay 11 5 4 2 15 10 19
West Springs 11 4 4 3 19 15 16
Lynfield 11 5 1 5 11 11 16
Glendowie 11 4 3 4 18 11 15
Northcote 10 3 2 5 11 22 11
Rutherford 11 2 1 8 10 28 7
St Dominics 11 1 3 7 14 36 6
St Cuthberts 11 0 1 10 4 29 1

Greater Auckland premier junior A1, St Marys 0 MAGS 0.

MAGS 9 6 3 0 48 3 21
EGGS 9 6 3 0 39 2 21
St Marys 9 6 3 0 16 3 21
St Cuthberts 9 5 4 0 25 7 19
Diocesan 9 5 0 4 25 16 15
Rangitoto 9 4 0 5 27 18 12
St Kentigern 9 2 1 6 10 26 7
WGHS 9 2 1 6 14 48 7
Avondale 9 1 1 7 6 43 4
West Springs 9 0 0 9 0 44 0

Junior A2, final, Baradene 3rd X1 1 Baradene 2nd X1 0. 3rd/4th, MAGS Development 2 Albany Junior High 1. 5th/6th, Botany Downs beat St Cuthberts Development by default. 7th/8th, Rutherford 3 Diocesan Development 0.

Counties Manukau Girls
Premier under-19, Pukekohe 1 Pakuranga 2, Howick 1 Rosehill 2, Macleans bye.

Pakuranga 8 6 1 1 22 5 19
Pukekohe 8 5 2 1 18 7 17
Macleans 8 3 1 4 11 18 10
Rosehill 8 1 3 4 6 14 6
Howick 8 1 1 6 6 19 4