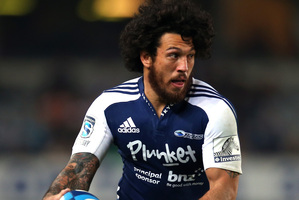 Blues 16
Chiefs 26
The sad thing about brave defeats is that no one ever remembers them.
A year from now and who will recall that the Blues, reduced to 14 men for most of the game and 13 for a period, played so gamely and effectively against such monumental odds?
Who will remember that the performance was extraordinarily courageous and a fitting way to see off Ali Williams, Anthony Boric and Rene Ranger - three men who have been a big part of the Blues in the last decade? Anyone?
Probably not.
In time the legend will fade, as it does when there isn't a victory to validate the heroics, and history will merely record what appeared to be a routine win for the New Zealand Conference champions.
Which will be unfair on the Blues - as this performance, in many ways, alluded to a brighter future than even their first this campaign which was a stirring rout of the Crusaders.
What impressed so much about them last night was the depth of character they showed. They could have been splatted after they lost Kane Barrett to an implausible red card after 20 minutes. Their season already over, they could have crawled into a ball and taken a frightful hiding.
But there was passion in their defence.
There was bite at the breakdown and an amazing ability to find space given their numerical disadvantage.
Clearly they wanted to send Williams off in style - at least allow him to leave feeling the franchise is in good shape.
They wanted Ranger to no doubt head for France with thoughts of one day coming back.
They wanted Boric to see if he had left one indelible impression on his young cohorts, it was to give everything of themselves.
The Blues showed so much endeavour and will that had they not been left with 15 men for the duration, then who knows? Maybe they could have won. Maybe - but for the damned red card: and if it wasn't the world's lamest red card, it was the second lamest. Barrett's footwork probably didn't even deserve a yellow - and if it did, it would purely have been to appease the soccer mums: a sanction more for form's sake than by any sense that it was actually merited. Common sense flew out the window because, sadly rugby officials can be like other fellow unpopular authoritative types such as traffic wardens, tax inspectors and council inspectors and be hypnotised by their own importance.
It was a horrible decision - ruined the game and ruined Kane Barrett's season. As he trudged off Eden Park, obviously bemused, he would most likely have pondered two things: should he actually jump on referee Chris Pollock to provide him with evidence of what someone being stomped actually looks like? And secondly, how on earth could he have been sent packing for trying to place his feet appropriately at the breakdown and Wallaby captain James Horwill was left unsanctioned for his heinous stamp on the head of Lions lock Alun Wyn Jones?
It's tempting to bundle all this up as the quaintness of rugby - except far too many people have been doing that for far too long.
Such inconsistent refereeing is the scourge, not the soul of rugby and it would be best in the days to come if those charged with running the game chose not to defend this sort of ardent nonsensical, decision-making.
There should have been no prospect of the Blues winning with 14 men. Goodness knows they were a longshot as it was when they had 15. Yet they dug in and never once resigned themselves to a fate that seemed inevitable.
Their scrum, wobbly and unsure of itself with the full complement, was toast when reduced to seven men. There were genuine safety concerns such was the speed with which it was forced to retreat at times. They battled on, though.
They battled on when they lost Keven Mealamu to another calf strain shortly after half-time. They battled on when they lost Baden Kerr to a yellow card for a deliberate knock-on, leaving them with 13 brave warriors to hold the fort.
It was a little like the final battle scene in Zulu, the Blues hopelessly outnumbered - Williams doing his best Michael Caine impression to inspire his men to hang on for longer.
Blues 16 (C. Piutau try; B. Kerr con, 3 pens) Chiefs 26 (B. Aki, H. Elliot, B. Tameifuna 2 tries; A. Cruden pen; G. Anscombe pen).