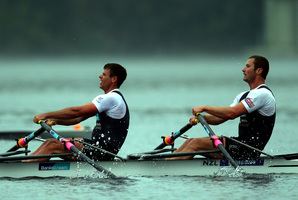 Controversy erupted when Robbie Manson and Michael Arms were selected as the new men's double sculls combination for the World Cup rowing season.
The uproar was because Olympic gold medallists and two-time world champions Joseph Sullivan and Nathan Cohen had been split. Cohen hinted he wanted to change to the quad if possible; Sullivan was dropped cold but was later recalled to race the single sculls before Mahe Drysdale's expected return at the trials within a fortnight. Neither Sullivan nor Cohen has had anywhere near the same impact compared to their heroic display in the Olympic final where they stormed home from last to first.
Manson and Arms finished seventh at the Olympics as part of the quadruple sculls and had made a logical progression through the system - and now the 23-year-olds have become the jewel of the Rowing New Zealand programme developed post-Olympics; unbeaten since assuming the mantle. They won their World Cups at Sydney and Eton Dorney and set a course record in their Henley royal regatta final.
Arms says they enjoyed their Henley experience but didn't get carried away: "It's a big old circus, that's for sure. I had a glass of Pimm's to celebrate but Robbie was watching me and I was watching Robbie to keep things in order. It was all very professional."
Coached by Calvin Ferguson, the duo could build a case as watertight as their rowing skiff if they triumph against their strongest opposition in a third World Cup final at Lucerne tonight. The duo sculled strongly to pick off their opposition in menacing fashion in the heats yesterday (NZT), advancing to the final. "One guy from the Italian Olympic silver medallist crew is back while Lithuania, Germany, Norway and Argentina are among the better crews to stiffen the competition," Manson says.
"I'm the most confident I've ever been going towards this third World Cup," adds Arms. "A lot of the new crews are worried about us rather than vice versa. We're just out there doing our thing, focused on our own boat speed."
They are evidence it is the programme rather than the athletes which make it a success. The only potential downside is the sport risks applying a sausage factory approach at the expense of individual flair. Still, if results are the sole driver of maintaining the most government funding of any Olympic sport ($18.4m over the Rio de Janeiro Olympic cycle), RNZ have struck gold.
There is a self-assurance in the demeanour of the courteous duo which suggests they could be Olympic medal contenders. Arms is built like an All Black No6 and is not the sort of bloke you'd fancy having a dart at down the blindside; his five o'clock shadow could sand a dining room table. There's a sneaking suspicion he'd be capable of telling a decent yarn or two once warmed up.
Manson appears more reserved and leaves the impression he could've walked out of a Barry Crump novel having skinned a dozen possums before breakfast; he has the ruddy glow of someone who has spent a good deal of time outdoors. Certainly much of the next three years will be spent on Lake Karapiro, given current form.
"Our results have given us enough confidence to raise expectations," Manson says. "We seemed to click straight away but hadn't spent a lot of time in the double before this year."
Arms and Manson made the final in the quad on Lucerne's Rotsee last year. Arms' previous experience was as the men's squad reserve in 2010 when he raced the single sculls to pass the day.
"I finished 17th so I could potentially move from zero to hero this year," he laughs.