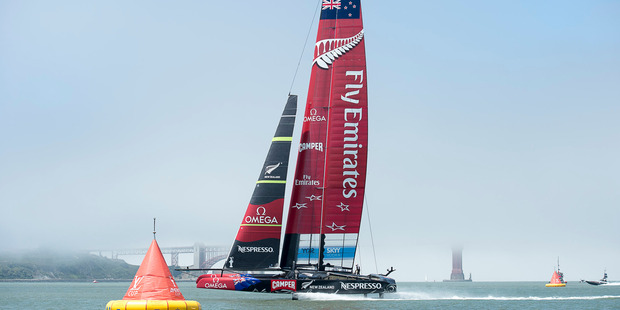 Now the America's Cup got around to actual sailing this morning (NZT), take a look at the Emirates Team New Zealand-Luna Rossa clash in San Francisco. Keep an eye out for what is likely to be a dominant feature of the racing during the regatta - what some call "flybing".
That is a new-ish term for gybing while foiling and it will be one of the key battlegrounds in the 34th America's Cup.
Gybing is when a yacht reaching downwind turns its stern so the wind hits the boat on the other side of the sail. Gybing can be desirable because it can be faster gybing than on a straight downwind run; a gybe can be the best way of rounding a mark on a race course.
It usually involves slowing down. Not so much with the AC72 72-foot America's Cup catamarans. Or, more particularly, Emirates Team New Zealand's Aotearoa.
The Kiwis are known for leading the way in foiling in the AC72s - hoisting these giant boats out of the water, connected to the sea only by backwards-L-shaped carbon fibre foils that act as a lifting device.
As the boats increase speed, the foils keep the boat "flying" above water, ensuring the hulls are off the water, hugely reducing drag and making the AC72s capable of high speeds.
What's become obvious in training in Auckland and San Francisco, and the two "Lone Ranger" races ETNZ has undertaken without opposition, is that they are moving closer to perfecting flybing - delicately tilting these seven-tonne beasts from foil to foil to aid manouevrability while sacrificing little in the way of speed.
The advantage gained is enormous. In a traditional gybe, the boat slows down, dropping its hull deeper in the water. In the AC72s, the slowdown if a boat comes off its foils and touches the water again is considerable - at least halving boat speed.
Team NZ are said to be pulling off some gybes at about 30 knots - a huge benefit if the opposition are struggling round a mark at half that rate.
Those watching the action so far suggest that Team NZ are regularly flybing at 20 knots or more when they get it right - and sometimes considerably more. They are also setting a cracking pace overall. Their second lone outing saw them reach a top speed of 43.26 knots - a touch below 80km/h.
The key question is who else is managing flybing well. Artemis haven't made it outside the shed yet and Luna Rossa are apparently not as fast or as consistent as the Kiwis, perhaps because of the long hours the New Zealand team have spent on the water honing their skills.
Holders Oracle have also shown competency in what will be a core skill. Interestingly, however, they have done so only with the rudders now outlawed by Friday's jury decision.
That upheld Team NZ's and Luna Rossa's protest against moves by regatta director Iain Murray to allow bigger rudder elevators that extend beyond the boats' maximum beam - a major no-no according to the Cup class rule.
So Oracle will have to alter their set-up and see if they can match the Kiwis at foiling and flybing with compliant rudders. Having said that, as Team NZ have been pointing out all along, Oracle do not have to race until September and can get some highly useful training by racing their two boats helmed by crack skippers Jimmy Spithill (Australia) and multiple Olympic gold medallist Ben Ainslie (UK).
That is also the reason why Team NZ can comfortably offer, as they did after Friday's jury decision, to allow Artemis to race with the outlawed rudder changes. No one knows how many other problems are besetting Artemis as they try to ready their new boat for racing. The best guessing is that they have major structural problems as their programme was not set up for foiling and they will have had to make some major alterations to join the fast foiling club.
Even if Artemis use the banned rudder changes and get a boat in the water, their lack of time training and making the boat 'sing' means they may struggle to match the Kiwis.
It's not so with Oracle, however, as they are already using the bigger elevators to make their AC72 go fast - and would have lots more time to perfect it.
Team NZ have always said the boats sail on the edge and a mistake or a mishap can happen to anyone. So, while things are looking good for them and they have impressed with their consistency and consistent safety, there is still a fine line between a boat that flies a bit and bits of boat flying all over the Bay.