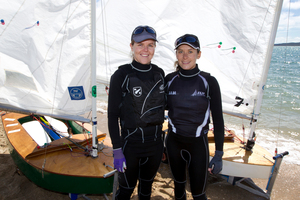 Most sailors gearing up for next month's 470 world championships will be hitting the water as they fine-tune their preparations but not Jo Aleh - instead, she'll be riding some of the most demanding stages of this year's Tour de France.
Aleh, one half of the Olympic gold medal-winning team with Olivia "Polly" Powrie, travelled to France yesterday and will tackle the Mont Ventoux and Alpe d'Huez mountain stages before joining Powrie a few days before the world championships on the French coast at La Rochelle.
It illustrates the diversified approach they are taking one year on from their Olympic triumph and one way they're trying to keep the jolly in Team Jolly. It would have been easy for them to repeat everything they did leading up to the London Games but a lot has changed since then.
They are now the hunted as opposed to the hunters as the world's best combination, and are seeking ways to maintain their edge.
At a Eurosaf event on Italy's Lake Garda this year, Powrie switched places with Aleh and skippered the boat for two races - they won the first but struggled in the second as wind got up and Aleh's lighter frame did little to keep the boat in the right direction - so the pair could better understand what the other did.
They have also employed two extra coaches on an occasional basis, while still using Nathan Handley as their main coach, to get a fresh perspective.
Last summer, they also dabbled with switching to the 49erFX skiff class, making its debut at the Rio Olympics, but realised they were better suited to the 470.
"The new challenge for us is, rather than being the underdogs coming through, we are at the top," Powrie said.
"It's a different mindset," Aleh added. "And it's about being comfortable [being the top team]. Last time we really loved the challenge of being the underdogs. We liked turning up and no one really knowing us and we loved sneaking in and winning it in the end. It's not really the best way of doing it because you really want to be dominant the whole way through.
"I think we have to be a bit smarter this time around. We've put in so much work we don't want to be one of those teams that goes backwards .. It's about keeping our wits about us."
Their results this year have been encouraging, despite admitting to considerable rust after such a long post-Olympics break. They won the two Eurosaf events at Lake Garda and the Netherlands and finished second at the European champs in Italy.
The world championships will be their biggest test of the year, with all the top teams heading to France, and it will give them a gauge of where some threats, both new and old, will come from leading into Rio.
Aleh and Powrie will return home via San Francisco to check out some of the America's Cup and then spend 10 days in Brazil joining top New Zealand men's crew Paul Snow-Hansen and Dan Wilcox to get a feel for conditions at the Olympic venue.
Aleh and Powrie are known for their detailed planning and, as Aleh said, "It's pretty hard to make plans when you haven't seen the place."
- APNZ