Sailor Craig Monk speaks about rebuilding the team since the Artemis capsize in which a crewmate died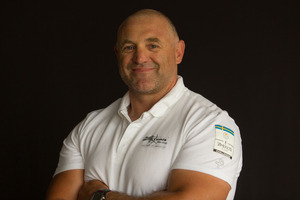 Kiwi sailor Craig Monk says he has no fears about getting back out on the water in Artemis Racing's new AC72 after being injured in the horrific training accident that claimed the life of his crewmate.
In his first interview since the May 9 capsize on San Francisco Bay, Monk told the Herald there are no nerves or anxiety as the team prepare to launch their second boat and attempt to get it race ready for the Louis Vuitton Cup knock-out stages in August.
Artemis were out training for the final time in their first AC72 "Big Red" - a boat that had been plagued with problems - when the high-powered catamaran flipped and broke into pieces, killing British Olympian Andrew Simpson.
Monk received a severe cut to his hand when he crashed through the wing but he said reports "over-dramatised" his injury. He is widely thought to have been the sailor nearest to Simpson when he was reportedly trapped underwater between the beams and the collapsed wing.
Officials and sailors from Artemis have said little publicly about the accident and its aftermath, and the Herald was asked to steer clear of questions about the events of that day, instead focusing on the future.
Eight weeks on from the accident, the team are working to regain their confidence and equilibrium. But they still face a psychological hurdle when they launch their new AC72 - how do you take the risk necessary to push these high-speed catamarans when you've experienced first hand what can happen when things go wrong?
"We're all pretty focused and determined to get out there; you can't go out there thinking something is going to break," said Monk at the team's base in Alameda, a 10,200sq m facility that was formerly a US Naval aircraft hangar.
The burly grinder and the Artemis crew have already been out on San Francisco Bay in the team's smaller AC45 catamaran, which was redeveloped with foiling capabilities to help them come to grips with the new technology when their full-scale boat hits the water. Monk said while that first day sailing after the accident was difficult, it was also comforting to get back to doing what he loves.
"It was tough, but it was also kind of nice to get back out on the water - it was a good thing to do. I'm used to sailing 200-plus days a year, on the water is where I feel the best," he said.
It was for that reason, and a poignant message in a card from his 8-year-old son Finn, that Monk never considered quitting.
"He wrote a card to me the night of the accident. It said 'I hope you're okay' and drew a picture of the boat and then wrote 'Artemis never gives up' and that sort of sealed it really."
His teammates shared that sentiment. After the dust had settled from that tragic accident and the team came together, they decided it was important they carry on. They did not want their first America's Cup challenge to end in a twisted heap of carbon fibre on San Francisco Bay.
Yesterday the hulls of the new boat were being wheeled back into the shed for the day after undergoing rigorous structural testing that involved being flipped upside-down and being subjected to heavy loads. Once the boat passes the structural tests, it should take 5-10 days to assemble and prepared for sea trials.
"Everyone drives off everyone else and once we get through the tests and start putting the boat together [it] becomes pretty real," he said.
But still, watching on while the other teams are out screaming around the bay is not easy.
The team gathered at the base on Wednesday to watch what would have been their opening race in the Louis Vuitton Cup against Team New Zealand.
"This is where I did the race - right on this arm chair," said Monk pointing to his seat in the team's rec room.
"If I hadn't already won the Cup twice I probably would be really frustrated.
"I'm not saying I'm content, but that's kind of life in a way, experiencing all the ups and downs. Not everything is going to be easy."