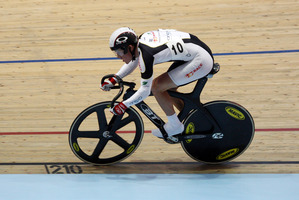 The New Zealand track cycling team will face a fired-up home nation as they target World Cup qualifying points in Adelaide this week.
New Zealand have sent nine riders to compete in three tier-one UCI events at the Adelaide Super-Drome, all of whom will be chasing points to qualify for the UCI World Cup series.
With that series used to determine riders and teams to compete at the World Championships, which in turn is used for Olympic qualification, the road to Rio continued overnight.
The Kiwi squad includes five returning from a European campaign but they will face a tough test from more than 100 riders from eight countries and, in particular, from the hosts. Having opted to group their three tier-one events into five days of racing, Australia will be firing on all cylinders this week.
"They have put all their eggs in one basket in grouping all their qualifying events into one week," said BikeNZ head coach Dayle Cheatley. "So they have prepared just for this and no doubt will be fully primed to perform and will set the benchmark for us."
Auckland sprinter Sam Webster has been rested because of injury but the rest of the New Zealand team will be eager to enhance their chances of World Cup qualification.
"It's an opportunity for us to collect some important points for World Cup qualifying," Cheatley said. "The men's sprint group have some useful points but need more, while the others are starting from scratch and will need to get some runs on the board."


New Zealand track team:
Men: Matt Archibald, Eddie Dawkins, Ethan Mitchell, Simon van Velthooven, Shane Archbold, Pieter Bulling.
Women: Lauren Ellis, Jaime Nielsen, Katie Schofield.
- APNZ