Wimbledon ritual of hometown hope then despair finally over.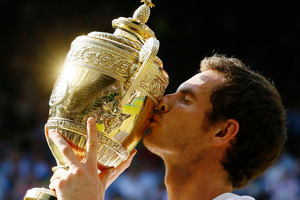 The most painful wait in sport is over. Andy Murray won Wimbledon for himself first and Britain second, but there was no mistaking the relief that swept the country as a 77-year hoodoo was lifted on a joyous summer day.
Shaking his head and gasping for air on Centre Court, Murray became the first British men's singles winner at the Lawn Tennis Championships since Fred Perry in 1936.
He is also the first British man to win Wimbledon in short trousers.
The shame has passed. Frustration has been banished. Wimbledon fortnight is no longer a ritual of hope and despair.
Murray's great conquest of Novak Djokovic brought British Prime Minister David Cameron from his seat to punch the air and revived the spirit of last year's London Olympics as the lucky few who were there rejoiced.
Alex Salmond, the Scottish National Party leader, seized his moment to unfurl a Saltire behind Cameron's back and claimed Murray's win as a Scottish triumph.
True, he is Scotland's first Wimbledon singles champion since Harold Mahony in 1896.
Elsewhere, in an unusually festive royal box, Wayne and Colleen Rooney joined Victoria Beckham and Tomislav Nikolic, the Serbian President, who watched Djokovic, the No1 seed, fall to the first British champion of either gender since Virginia Wade in 1977.
Vindicated and exhausted, disbelieving and overwhelmed, Murray could look back on a performance of immense fortitude. The sometimes fragile and self-reproaching youth who took the torch from Tim Henman has grown into a confident and combative 26-year-old who hunted the mighty Djokovic down to win 6-4, 7-5, 6-4 in 40C heat.
As Centre Court erupted after a tense contest of booming groundstrokes and thrilling rallies, Murray fell to his knees, wandered around the court bemused, buried his head in his towel and then climbed to the players' box to hug his entourage of coaches and physios, mother Judy and girlfriend Kim Sears.
Britain will wrap this day in Union flags, but it was really one man's victory over doubt and public negativity. To some, Murray was merely a slightly more credible Tim Henman who had the misfortune to be born in a golden era for men's tennis. Djokovic, Roger Federer and Rafael Nadal were all daunting obstacles to his winning Wimbledon.
In little over a year he has been anointed Olympic, US Open and now Wimbledon champion: an astonishing revival for the Scot who was widely mocked in his early days for his monotone, stroppy demeanour on court and near-misses in big events.
Behind that tortured exterior burned a fierce determination not to be outdone by the great players of his age. Murray was a pupil at the school in Dunblane where Thomas Hamilton shot dead 16 children and one teacher before killing himself in March 1996. Only after a recent BBC documentary, when he broke down while recalling the incident, will most people have understood its impact on him.
In sporting terms, Murray has seemed more assured in the past year: less prone to fall apart under pressure. He is a model of self-improvement and persistence whom the British public have been slow to love.
They can hardly withhold their affections now. Murray's first roar, in victory, was to the press box. He would not say whether he meant it as a rebuke but did speak of a "difficult relationship".
Twenty-four hours after the Lions wrapped up a first series win since 1997 with victory over Australia in Sydney, Murray finally exorcised Fred Perry's ghost. These are honeyed days for sport. Tomorrow a five-test Ashes cricket series starts with England favourites to inflict more misery on Australia.
But the tennis hoodoo was always the most infuriating, persistent and humiliating. Although Britain still led the way, remarkably, with 35 Wimbledon men's champions, there have been only two since 1922: Perry and Bunny Austin, who sounds like a refugee from P.G. Wodehouse.
That curse was lifted with the 127th staging of the Lawn Tennis Championships, which began in 1877 with a British victor, Spencer Gore.
Foreign visitors to Wimbledon have observed the writhings of the home team with great amusement. "I think with the amount of money that's invested in the sport in this country, then it shouldn't take another 70-odd years," Murray said.
Tens of millions in profits are carted away from the All England Club every year but there is no reliable supply of talent. Murray has carried the weight of British failure for eight years, like Henman before him.
"For the last four or five years, it's been very, very tough, very stressful, a lot of pressure," he said. "It's so hard to avoid everything because of how big this event is, but also because of the history and no Brit having won. I think I felt a little bit better this year than I did last year. But it's not easy. I think now it will become easier. I hope it will. I hope it will ...
"It's incredibly difficult to win these events. I don't think that's that well understood sometimes."
We understand it now. A colossus led British tennis out of the darkness and achieved his own immortality. It was an inspiration.
Britain's big week
* Andy Murray wins Wimbledon.
* The British & Irish Lions humble the Wallabies.
* Team Sky's Chris Froome takes a stranglehold on Le Tour's yellow jersey.
* The Ashes start tomorrow at Trent Bridge.