At 58, Noel Harris is New Zealand's oldest active jockey. Last month he took out five winners in a day at Ellerslie and has no plans to retire. He has four older children from a previous marriage but hasn't ruled out another baby with his wife Kylie.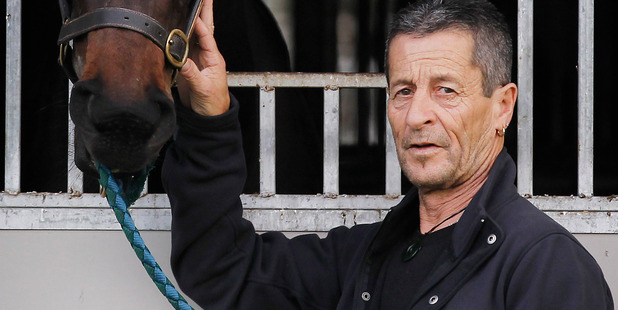 1. As a jockey, how much of a hard life has your body had?
Oh mate, it's not easy. Sometimes you're having to drop 3kg in a day and it's the dehydration that's the worst. Food was never a problem for me. It's the fluid. You're in and out of the sauna for a couple of hours, hot baths. We used to take diuretics but they're illegal now. I remember once taking off about 5kg in a week with saunas, sweating at night and you're so thirsty. You see one of those Coke ads and it's like woah. The worst part is in the 24 hours before you race. You have a little bit to drink between races but your body is like a sponge. Your skin is papery. You can see it in other jockeys too when they've had to drop a lot. They're black in the eyes. And then when you get to have fluid again, you think never again ... until the next time.
2. Did you have any option but to be a jockey?
My dad Jock was a jockey and my (three) brothers all rode. Dad didn't really force us because he'd had a lot of problems too with the weight and that, but we were a racing family.
At school I liked gymnastics but at college the old man said "come out and we'll make some money".
3. Did you have a good relationship with your dad?
He's work orientated, my dad, and he was probably too busy to watch us play rugby or sport, but that was a lot of parents in those days. He was a hard taskmaster, but I appreciate what he did for all of us. He kicked me up the arse sometimes, but it didn't do me any harm and he worked hard to bring us up right. He's 83 now.
4. Is it true that jockeys get all the girls?
It's just a myth mate. Jockeys are known like that because it's such a big industry and you're riding all over the country and meeting new people and there's a fair bit of partying. It can be a sexy industry but it can be ugly too. A lot of people don't realise what's really involved.
5. How hard is your sport on marriages?
It's a pressure sport. It's the dehydration and going without food and the mental fatigue that goes with that. It's seven days a week all year round and you don't get a holiday unless you make one. So it's very hard on a family especially with kids. My second wife Kylie and I had our anniversary at [jockey] Leith Innes' wedding in Fiji recently, and when I said it was our fifth someone said "Oh, you're doing well".
6. What's kept you in the game so long?
Finding a happy medium with it. I don't do early morning trackwork anymore. I tell them I can't or my knees will give out [laughs].
7. You've had your battles with the booze: who won, do you think?
Well I'm not an alcoholic. After my marriage broke up and I went to Australia it got quite scary. You start partying and just keep going, but I was quick to snap out of it. It was a reality check more than anything. When you're in the public eye in racing, word goes around that he's on the piss and doing this and doing that, but people know me now. I am who I am and I don't let anyone down.
8. What have you learned from horses?
An old jockey who rode with my dad said to me once that when you ride these horses, treat them like a girlfriend. Be kind to them and cuddle up to them and give to them and they'll keep giving back to you.
9. How have you dealt with failure in your life?
To be a good winner you have to be a good loser. You've got to cop it on the chin because you can't win everything. On my back I've got a tattoo of four cards, four aces. That's a very hard hand to beat but it's beatable. If I had an unbeatable hand and put that on my back, it's like you can't accept defeat.
10. Who or what is the love of your life?
I'd have to say Kylie. She's been an inspiration to me. We met at a funeral actually, an old trainer. We just clicked straight away. She didn't know much about racing and I thought I knew everything but she makes me think about things differently. Yes, she's 20 years younger but probably 20 years brighter than me. Only joking. We haven't had children. It's still in the pipeline. It's up to her really. I'm happy either way.
11. If you hadn't become a jockey, what would you have loved to do?
Be a bounty-hunter. Or an entertainments officer on a cruise ship or something. I say that to people who know me and they run with it. They go "oh yeah, Harry. You'd be good at that."
12. What did your parents teach you?
Respect. We all had to learn respect. Everyone was Mr or Mrs. Even today with certain trainers I'll call them Mr. The younger generation haven't got the respect I was brought up with.