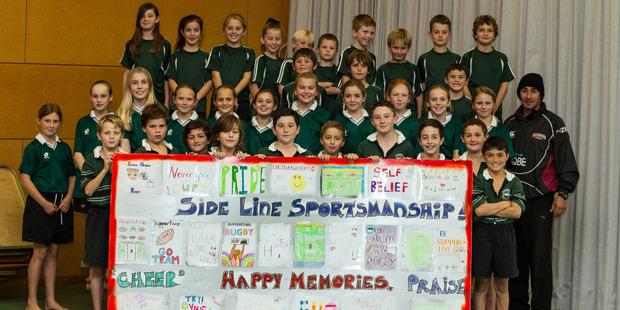 Pupil-power is helping lead the way in a drive for good sideline behaviour at sports events around the country.
The Herald on Sunday has launched Sideline Champs, a far-reaching campaign to support good behaviour on the sidelines of sports fields and courts, and to back work being done by sports to combat increasing numbers of abusive fans.
Students at Hauraki School in Takapuna, Auckland, were so inspired by the campaign they ran a competition to find the best poster to promote positive behaviour among watching parents.
The students patched their efforts on to one giant banner that they now take to matches. They unfurled it at a recent North Harbour Rugby Year 3 and 4 tournament.
Peter Cullen, who runs the sports academy at Hauraki School, said the banner was a winner.
"Too many parents want to live the game for their children from the sidelines and this upsets and demoralises the kids," he said.
As part of the campaign, McCafe donated thousands of coffee and muffin vouchers for supporters seen to be supporting in a positive way.
One winner in Canterbury was Tana Sullivan, coach of the Selwyn-Sydenham intermediate 8 girls hockey team.
She had the idea of dispensing ice cream to her players and their opponents, and she says it has licked bad behaviour.