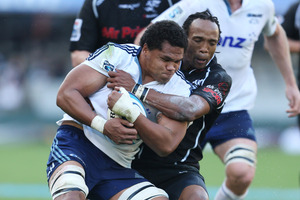 It seems incredible a team with four straight defeats and a losing record could still sneak into the playoffs, but the Blues are hoping to beat the odds.
A season which initially offered so much, before derailing leading into the international break, now rests on tomorrow morning's (NZT) match with the Cheetahs.
Win in the Republic, and the Blues' slim hopes survive another week. Lose, and it's time to plan for next season.
Being in contention on the eve of their penultimate game is an impressive feat after last year's dysfunctional campaign, and one the team owe entirely to their penchant for picking up bonus points.
Since Super Rugby began offering six playoff places two seasons ago, no side with fewer than 10 wins have had a sniff of the finals. If the Blues beat the Cheetahs and follow it next week with an unlikely victory over the Chiefs, they could squeeze in with eight wins and eight losses.
The difference in that scenario would be the Blues' competition-leading 12 bonus points. Worth three wins, those extra points kept the Blues' season alive when last week's last-minute loss to the Sharks seemed to extinguish their hopes.
And the unlikely reprieve has understandably lifted the spirits of Sir John Kirwan's side, with the coach confirming the frenetic finale has proven to be a positive.
"Everyone's excited about it, we realise how big a game it is," Kirwan said. "It's come down to a couple of games, which is sort of exciting guys rather than them worrying about it.
"It's really positive from a team spirit point of view but we've just got to try to put together an 80-minute performance. I think it's fair to say, if you look at our last few games, we've been playing well in patches rather than over the 80 minutes."
It's also fair to say those patches didn't come at the conclusion of last week's game. The Sharks crossed for the match-winner with 20 seconds on the clock, a defeat Kirwan called devastating, but one that, perhaps surprisingly, wasn't entirely toxic.
"The boys were incredibly proud of the way they kept hanging in [last week]. The scrum got bent but the guys in the front row were still running around the corner and making their tackles. To get another life like this is really down to us scoring all those bonus points."
And, with all those bonus points proving so profitable, the Blues aren't about to change their approach to match the high stakes.
"Our lineout was fine last week but it was the scrum that we got six penalties off. In Africa, if you give away that many penalties, they'll kick you into the corner, and they're big men so they'll drive you.
"If we can clean that up, continue to play our style, the boys know that if we can hang on to the ball we're pretty dangerous."
Cheetahs v Blues
Bloemfontein, 12.50am tomorrow
Cheetahs: Hennie Daniller, Willie le Roux, Johann Sadie, Robert Ebersohn, Raymond Rhule, Riaan Smit, Piet van Zyl, Philip van der Walt, L. Labuschagne, Heinrich Brussow, Ligtoring Landman, Lodewyk de Jager, Lourens Adriaanse, Adriaan Strauss (c), Coenie Oosthuizen
Reserves: Ryno Barnes, Trevor Nyakane, Waltie Vermeulen, Boom Prinsloo, Sarel Pretorius, Elgar Watts, Ryno Benjamin.
Blues: Charles Piutau, Frank Halai, Jackson Willison, Francis Saili, Rene Ranger, Baden Kerr, J. Gibson-Park, Peter Saili, Luke Braid, Steven Luatua, Ali Williams (c), Anthony Boric, Angus Ta'avao, James Parsons, Sam Prattley
Reserves: Keven Mealamu, Ofa Tu'ungafasi, Culum Retallick, Brendon O'Connor, Wayne Ngaluafe, Marty McKenzie, George Moala.
- APNZ