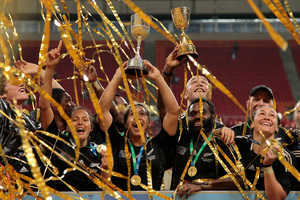 The New Zealand womens and mens rugby sevens teams arrived home today after both securing gold placements in the World Cup.
Dozens of family and friends turned up to Auckland Airport just after lunch to celebrate the teams' victorious return from Russia.
A traditional Maori Haka was performed by relatives of the players as an official welcoming back into the country.
Both teams are ecstatic about their achievements, but are happy to be back on home soil.
DJ Forbes, captain of the mens team, said the feeling of winning hasn't sunk in yet.
"It all happened pretty fast. It's good to be home.''