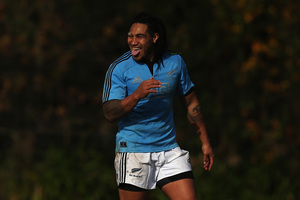 Gone for the rest of the season, questions still remain about where Ma'a Nonu will be playing next year.
The controversial Highlanders midfielder was not available for comment yesterday - as opprobrium rained down on him across the country - after receiving a three-week ban for his tip-tackle on Crusader Tom Marshall. Highlanders general manager Roger Clark said at the weekend it was too early to say whether Nonu will be back.
The 31-year-old is off contract at the end of the season and has yet to announce his plans. The Highlanders would probably be Nonu's preferred team after he burned his bridges at the Hurricanes and Blues, but his relationship with coach Jamie Joseph is thought to be frosty.
Joseph named Nonu on the reserves bench for the Crusaders loss, which came after Nonu's star turns for the All Blacks in the three-test series against France. He was also confined to a bench role in the big win over the Blues a week before the first test against the French.
Fellow All Black Aaron Smith was also named on the bench last weekend by Joseph, but there was a hint of punishment about Nonu's demotion. He was stunning in the second test in Christchurch and solid in the other two - three performances several notches above those managed for the Highlanders.
The problem for Nonu is that he is gaining a reputation of being difficult to work with at a Super 15 level. Considered by Hurricanes coach Mark Hammett to be a bad influence, Nonu left for the Blues, only to call it quits after one season, a decision which left John Kirwan in the lurch.
At the Blues he played well at times, despite the inconsistency of the team under Pat Lam. Nonu's efforts in the second half of the season were especially notable.
If Joseph retains his job at the Highlanders - which is likely - he will probably want to retain Nonu, if only because Tamati Ellison's impending exit for Japan will leave a big hole in his midfield.
Where else could Nonu go? The Chiefs are unlikely to want him given their culture under Dave Rennie and Wayne Smith, which pays more than mere lip service to the character of their players, a policy that has quickly reaped rewards. That leaves just the Crusaders, who will be in the market for a big and powerful midfielder due to Robbie Fruean's impending heart surgery.
Fruean was taken from Wellington as a special project, and did extremely well given his ongoing heart condition. Nonu, another product of the capital, would be one more.
The Crusaders coaches would be wary of him. But Nonu must be aware he is quickly running out of teams and a change of behaviour is required.
It could be a good fit for both parties.
Reasons to love Ma'a
*He plays really well for the All Blacks... usually.
*He introduced Max Factor to the rugby environment.
*He's not afraid to share his "talent" - three franchises down, two to go.
*Sport needs villains - for every Bradman there's a Jardine.
*He's many things, but never boring.
- APNZ