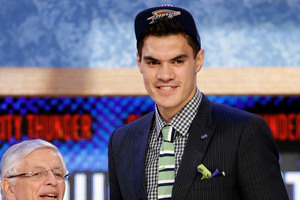 As the euphoria of the 2013 NBA Draft settles down for Steven Adams - and most of New Zealand - the monumental challenge is beginning to reveal itself.
After Friday's (NZ time) selection at number 12 by the Oklahoma City Thunder, Adams was whisked away to begin his life as an NBA player.
The instant wealth - a likely starting salary around US$1.7 million ($2.2 million) - and fame are thrilling to ponder, but it's only granted because you're expected to put in some serious hard work.
The 19-year-old Adams insists he's ready to do that. "The main thing is just to be professional and make sure that you represent your city, but also the NBA. This is a fraternity. You have to respect their brand, and put it in a good image," says Adams.
His mentor Kenny McFadden says making that adjustment is one of the biggest challenges for any player, whether or not you're just a teenager from Rotorua.
"That's all a learning curve, regardless of where you're from. It's not an easy process going into the 450-member club, which is very exclusive," says McFadden.
"Everybody in the world who plays basketball has a dream to do exactly what he's done. But he's been preparing himself for four-and-a-half years for this, and he'll do everything necessary to make himself very successful."
Adams' agent is Darren Matsubara from Wasserman Media Group, who has experience guiding players like Kris Humphries and Brook Lopez into the NBA.
"A lot of it is getting acclimatised to the NBA. Getting acclimatised to the speed of the game, the strength of the game," says Matsubara.
"There's going to be a growth period no matter what. It's just a matter of how quickly you can understand it.
"I think what's really good for Steven is he's going on a team with two great players, who have great leadership, in Russell Westbrook, as well as Kevin Durant."
Positionally though, Adams will be a back-up centre to Kendrick Perkins, and Matsubara says that relationship will benefit Adams.
"Kendrick, everywhere he's been, has always put players under his wing."
Thunder general manager Sam Presti says Adams has a lot of work to do, but has a "tremendous upside".
"He brings a nice set of legs. He's athletic. You could say he's a little more athletic than our centres," says Presti. "He's a young guy that's going to have to come in here and work. He has some physical tools to work with so that was very attractive to us."
It's not clear at this stage whether Adams will head to the Thunder's D-League affiliate, the Tusla 66ers, 170km northeast of Oklahoma City.
It's a strong possibility at some stage in season one, but Presti says the off-season competition is definitely the first stop.
"I think that each [drafted] player here has a clear expectation of what's expected of them. They will play summer league. We will have a good week leading up," says Presti.
Adams is often described as having all the separate elements of an elite basketballer, but hasn't yet consistently combined it into star performances.
That might be because of the style of team he played for at Pittsburgh, but regardless, by joining a team like Oklahoma City, he has the opportunity to grow.
But that doesn't mean change.
"How you see him on TV half the time? That's him eh. He's chilled out, have a yarn, talk a bit of smack. We're pretty lax back. It's pretty cool," says older brother Moses Beckham Adams.
Staying true to himself is a sentiment echoed by Adams' agent.
"I think that you just try to stay and be the same person you were. You don't want to start compromising your disciplines and your philosophies on how you were brought up", says Matsubara.
"You might make some adjustments, but don't change. If you change, eventually you gotta change back when your career ends."